Frame Sensor detects parts passing through.
Press Release Summary: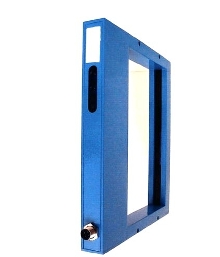 FRS and CAD frame sensors detect part passing thru or dwelling in detection area. Sensors with areas up to 200 x 250 mm can detect parts as small as 4 mm dia. Smaller sensors detect parts down to 2 mm dia. Sensing devices are enclosed in aluminum, industrial housing. Response time is 1 msec and outputs are NPN, PNP, normally open, and normally closed. Power requirement is 24Vdc. On board microprocessor offers automatic blanking and dirty lens protection.
---
Original Press Release:

Frame Sensor for Detection of Parts


EMX Industries of Cleveland, OH is introducing the new series FRS and CAD frame sensors that allow detection of any part passing thru or dwelling in its detection area. Sensors with areas up to 200mm by 250mm can detect parts as small as 4mm in diameter. Smaller sensors can detect parts down to 2mm in diameter.

The sensing devices are enclosed in a rugged aluminum industrial housing. Response times of one msec are easily attained and outputs are NPN, PNP, normally open and normally closed. Power requirements are 24VDC. The on board microprocessor offers automatic blanking and dirty lens protection. EMX INDUSTRIES Inc.can be contacted at 1(800)426-9912 or Email: sensors2@emxinc.com

More from Transportation Industry Products