Frame Grabber has half-height, PCI-compatible form factor.
Press Release Summary: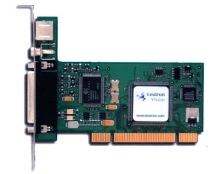 PicPort-Color acquires images from S-Video and Composite video sources in NTSC/RS170/PAL/CCIR/SECAM or PAL-M formats. Onboard electronics insure conservation of color information during digitalization process. LV-SDS Software Suite includes Orchid library, with ActiveX/OCX and regular function calls, Daisy C/C++ core library, Daisy Real-time Application Library, Video for Windows driver, Twain driver, and Camera Editor.
---
Original Press Release:
PicPort-Color Frame Grabber Gets Slimmer

Monday, April 29th, 2002 Burlington, MA - Leutrek Vision Inc. is
pleased to announce the release of Leutron Vision's PicPort-Color frame grabber in a Half Height PCI compatible form factor.

PicPort-Color frame grabber acquires images from S-Video and Composite video sources in NTSC/RS170/PAL/CCIR/SECAM or PAL-M formats. Its key points are image quality, good software interface and low price. The advanced onboard electronics insures the conservation of color information during the digitalization process; this makes PicPort-Color a must for applications requiring high quality images. LV-SDS (Leutron
Vision Software Development Suite) is the source of development tools for PicPort® and PicProdigy® frame grabbers. It includes Orchid (easy to use library with ActiveX/OCX and regular function calls), Daisy (C/C++ core library), Daisy Real-time Application Library (DRAL, C/C++ core library), Video for Windows driver, Twain driver and Camera Editor (camera description utility). LV-SDS runs under Windows 9x/NT/2000/Embedded, Linux (Intel based) and VxWorks (Intel based). The library offers many different ways to control the board and thus is adapted for any kind of application. With all its technical qualities, PicPort-Color comes with a low price to satisfy all budgets.

Established in 1979, Leutron Vision AG is a pioneer in image
acquisition. This European company has gained a solid reputation with PicPort®, their industrial low-end frame grabber series, and PentiCam®, their versatile embedded vision systems.

Leutrek Vision Inc. represents Leutron Vision and distributes their product in North America along with other world-class image processing hardware and software from Atlantek Microsystems, MVTec and Teli. Leutrek Vision builds its business by offering client support, product knowledge and good selection of quality products.

For additional information visit Leutrek Vision's web site at
www.leutrek.com or call (781) 238-0213.

Source: Stephane FRANCOIS, Executive Vice President

Leutrek Vision Inc

25 Mall Road - Suite 300

Burlington, MA 01803

Tel.: (781) 238-0213

Fax: (781) 270-9318

www.leutrek.com
More from Electronic Components & Devices