FPGA Module features fiber-optic transceivers.
Press Release Summary: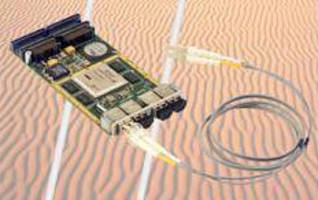 Model XMC-FPGA05F FPGA XMC/PMC module incorporates Xilinx® Virtex®-5 FPGA with 4 front panel, single or multimode fiber-optic transceivers supporting speeds including 2.0, 2.125, 2.5, and 3.125 Gbps. Data flow is handled by IP core for protocols such as Aurora(TM) or Serial FPDP. Unit includes 4 banks of 128 MB DDR2 SDRAM memory, with bandwidth near 1 Gpbs; DMA controllers; and onboard Flash. Air- or conduction-cooled versions are available.
---
Original Press Release:

Curtiss-Wright Controls Ships New Rugged Fiber-Optic Transceiver FPGA XMC/PMC Module



High Wycombe, UK - May 29, 2009 - Curtiss-Wright Controls Embedded Computing today announced that it has begun shipping the XMC-FPGA05F, its new generation user programmable FPGA XMC/PMC module with fiber-optic transceivers. Available in both in air- or conduction-cooled versions, the XMC-FPGA05F, a follow-on to the popular PMC-FPGA03F, incorporates the Xilinx® Virtex®-5 FPGA with four front panel fiber-optic transceivers. The increasing use of high-speed serial interconnects in embedded real-time DSP systems and the effectiveness of FPGAs to interface to sensor I/O makes the XMC-FPGA05F ideal for demanding real-time applications such as remote sensor interfaces, data recorders, and embedded real-time distributed computing.

"The XMC-FPGA05F effectively solves a number of problems through its mix of user programmable FPGA and fiber optic data links which can be used for low latency communications, custom protocols and efficient data gateways within a rugged environment." said Lynn Patterson, vice president and general manager of Modular Solutions, Curtiss-Wright Controls Embedded Computing. "The XMC-FPGA05F is a simple, but important, product that makes a significant impact in a system's viability."

The XMC-FPGA05F features a Xilinx Virtex-5 FPGA, high-speed fiber-optic transceivers, DDR2 SDRAM memory, DMA controllers, and a choice of interfaces. It supports the Virtex-5 SX95T in the FF1136 package. Alternative FPGAs, such as the LX155T, can be provided on request. Fiber-optic links are enabled by up to four single- or multi-mode, front panel, fiber-optic transceivers that support speeds including 2.0, 2.125, 2.5 and 3.125Gbps. An IP core for fiber-optic protocols such as Aurora(TM) or Serial FPDP can be loaded into the FPGA to handle data flow through the front panel transceivers.

The XMC-FPGA05F has four 128MB banks of DDR2 SDRAM memory with bandwidth approaching 1GB/s. The PMC/XMC form-factor board supports both PCI-X/PCI and x8 PCI Express® 1.1 host interfaces. DMA controllers simplify data movement with enough channels to support dedicated DMA controller for each fiber-optic interface. The XMCFPGA05F has onboard FLASH to store multiple FPGA images and a "FLASH bypass mode" for secure applications where configurations cannot be stored in volatile memory. In addition,there is a 64-bit user I/O option via either the PMC Pn4 or XMC Pn6 ports which is directly linked to FPGA for high-speed parallel or custom I/O from the backplane or host.

Development for the XMC-FPGA05F is supported by Curtiss-Wright Controls' FusionXF development kit. FusionXF includes a Software Development Kit (SDK) and an HDL Development Kit (HDK). The SDK provides host software support for Windows®, VxWorks® and Linux®, including a driver framework for high-speed DMA access between the XMC and host CPU, FPGA reconfiguration and diagnostics. The HDK contains the FPGA interface definitions and HDL functions to build a fully functional FPGA design. The HDK includes example designs that show how to implement common FPGA functions such as control registers, DMA engines and interrupts, and how to control these functions and communicate with them from software.

Early access units of the XMC-FPGA05F are available now. Availability of production units is scheduled for Q3 2009.

For editorial information regarding Curtiss-Wright Controls Embedded Computing Multi Computing products or services, contact John Wranovics, public relations director, Curtiss-Wright Controls Embedded Computing, Tel: (925) 640-6402; email. jwranovics@curtisswright.com.

Inquiries: Please forward all Sales and reader service inquiries to Jerri-Lynne Charbonneau, Curtiss-Wright Controls Embedded Computing, Tel: (613) 254-5112; Fax: (613) 599-7777; e-mail: sales@cwcembedded.com.

About Curtiss-Wright Controls Embedded Computing

Curtiss-Wright Controls Embedded Computing is the industry's most comprehensive and experienced single source for embedded solutions, ranging from Processing, Subsystems, Data Communication, DSP, and Video & Graphics to the most advanced board level components and fully integrated custom systems. The Embedded Computing group serves the defense, aerospace, commercial and industrial markets and is part of Curtiss-Wright Controls Inc.

About Curtiss-Wright Controls, Inc.

Headquartered in Charlotte, North Carolina, Curtiss-Wright Controls is the motion control segment of Curtiss-Wright Corporation (NYSE: CW). With manufacturing facilities around the world, Curtiss-Wright Controls is a leading technology-based organization providing niche motion control products, subsystems and services internationally for the aerospace and defense markets. For more information, visit www.cwcontrols.com.

More from Electrical Equipment & Systems