FPGA Kit facilitates customized embedded system design.
Press Release Summary: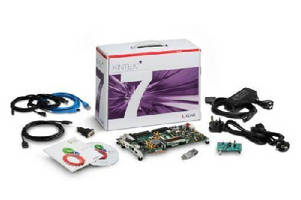 With silicon, IP cores, and MicroBlaze(TM) soft processor-based reference designs, Kintex(TM)-7 enables designers to implement programmable system integration for applications where processor needs to control different data streams, such as in video/Ethernet switching, motor control, and medical imaging. Kit includes KC705 baseboard with Kintex-7 325T FPGA; Embedded Targeted Reference Design; ISE® Design Suite Embedded Edition; AMS evaluation card; and USB, Ethernet, HDMI(TM), and power cables/supply.
---
Original Press Release:

Xilinx Kintex-7 FPGA Embedded Kit Accelerates Productivity and Programmable System Integration for FPGA-Based Soft Processor Systems



Accelerates Design Productivity for Broadcast, Aerospace & Defense (A&D), Industrial, and Medical Applications Using Xilinx's Kintex-7 FPGA Embedded Kit

SAN JOSE, Calif., -- Xilinx, Inc. (NASDAQ: XLNX) today announced the Kintex(TM)-7 FPGA Embedded Kit, providing a ready-to-use development platform for system designers to quickly and easily implement programmable system integration for applications where the processor needs to control different data streams, such as in video and Ethernet switching, motor control, and medical imaging. As a Xilinx® 7 series FPGA, Kintex-7 devices offer the flexibility to support changing standards, parallel processing and customizable interfaces with integrated functions like high performance DSP, memory, analog and I/O interfaces, making it easier for designers to embed soft processors to control dataflow and manage a number of interfaces in the system.

"Designers can reduce development time by using the Kintex-7 FPGA embedded targeted reference design that comes with the kit as a stepping stone for building their customized embedded systems," said Raj Seelam, Xilinx Senior Marketing Manager of Targeted Design Platforms. "The scalable, optimized architecture of Kintex-7 FPGAs allows customers to migrate their designs across Xilinx's 28nm 7 series devices, maximizing design reuse and reducing time to market."

"Kintex-7 FPGAs are a great programmable platform for high performance embedded design," said Davor Kovacec, Xylon CEO. "The new Embedded Kit uses our logiSDHC SD Card controller and logiCVC-ML display controller with associated SW drivers, demonstrating how system designers can rapidly design HD video processing systems at 1080p60 video resolutions or higher."

Kintex-7 FPGA Embedded Kit

Equipped with a combination of silicon, tools, IP cores, and MicroBlaze(TM) soft processor-based reference designs, both software and hardware developers alike can work on their designs in parallel. The kit has all the components needed for designers to get started, including:

-- KC705 baseboard with Kintex-7 325T FPGA;

-- Embedded Targeted Reference Design;

-- ISE® Design Suite Embedded Edition (including Xilinx Platform Studio and Xilinx Software Development Kit);

-- USB, Ethernet, HDMI(TM) and power cables/supply;

-- AMS evaluation card

Pricing and Availability

The Kintex-7 FPGA Embedded Kit is priced at $1895 and is open for order entry. For more information or to download the Kintex-7 FPGA Embedded Targeted Reference Design, please visit www.xilinx.com/k7embkit. Customers can also contact their local Xilinx sales representative.

About Xilinx

Xilinx is the world's leading provider of All Programmable technologies and devices, going beyond traditional programmable logic to enable both hardware and software programmability, integrate both digital and analog mixed-signal functions, and allow new levels of programmable interconnect in both monolithic and multi-die 3D ICs. The company's products are coupled with a next-generation design environment and IP to serve a broad range of customer needs, from programmable logic to programmable systems integration. For more information, visit www.xilinx.com.

Xilinx, the Xilinx logo, Artix, ISE, Kintex, Spartan, Virtex, Zynq, and other designated brands included herein are trademarks of Xilinx in the United States and other countries. HDMI, HDMI logo, and High-Definition Multimedia Interface are trademarks of HDMI Licensing LLC. All other trademarks are the property of their respective owners.

Xilinx

Bruce Fienberg

408-879-4631

Bruce.Fienberg@xilinx.com

Web Site: www.xilinx.com

More from Cleaning Products & Equipment