FPGA Kit accelerates high-bandwidth application development.
Press Release Summary: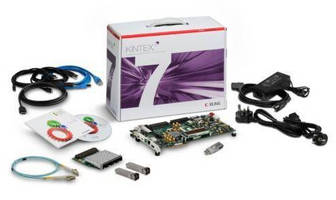 Aiding those creating advanced serial I/O designs across range of high-bandwidth applications, Kintex(TM)-7 FPGA Connectivity Kit increases productivity via inclusion of fully validated and supported reference design. This out-of-the box design environment includes 20 Gbps Targeted Reference Design that integrates entire PCIe® solution with DDR3 sub-system, including HDL and complete software stack. Other kit components include Kintex-7 FPGA KC705 base board with FMC daughter card.
---
Original Press Release:

New Xilinx Kintex-7 FPGA Connectivity Kit Dramatically Increases Productivity for Designing High Bandwidth Applications



Kintex-7 FPGA Connectivity Kit for customers creating advanced serial I/O designs across a broad range of high bandwidth applications. The Kintex-7 FPGA Connectivity Kit dramatically increases designer productivity by including a fully validated and supported reference design that integrates an entire PCIe® solution with DDR3 sub-system, including both the HDL and the complete software stack.

"The Kintex-7 FPGA Connectivity Kit helps increase our customers' productivity by offering a Targeted Reference Design that removes much of the tedious work customers would otherwise have to do on their own. They can focus on what they do best - building and optimizing their own applications," said Raj Seelam, director of marketing at Xilinx. "This highly optimized reference design can be used in production systems or as a proven base for custom modifications which significantly improves our customers' time-to-market."

The Kintex-7 FPGA Connectivity Kit provides a comprehensive, out-of-the box design environment that includes a 20 Gb/s Targeted Reference Design (TRD) to jump-start application development. The reference design integrates the Kintex-7 device's 12.5 Gb/s GTX transceivers and PCIe x8 Gen2 hard block with a high-performance 10G DMA IP core from Northwest Logic, dual 10G Ethernet links using 10GBASE-R PHY interface, a virtual FIFO memory controller interfacing to an external DDR3 memory and supports the AMBA® AXI4 (Advanced eXtensible Interface 4) standard.

The reference design provides designers with a high-performance solution for high bandwidth applications such as wired telecommunications and wireless infrastructure, audio, video, and broadcast solutions; high-end consumer markets; aerospace and defense (A&D) and high-performance computing storage applications. Also provided are the software drivers, driver source code and a GUI to enable users to control and evaluate the design more quickly.

The kit itself includes a Kintex-7 FPGA KC705 base board with a high-speed FMC daughter card from Faster Technology that allows up to four 10 Gb/s SFP+ interfaces, two of which are leveraged in the TRD to give developers a real-world example to reference for their next high-speed serial I/O designs.

The 28nm Kintex-7 family is designed for maximum power efficiency and delivers a 2x price-performance improvement while consuming 50 percent less power compared to the previous generation of FPGAs. Kintex-7 FPGAs offer high-density logic and up to 32 GTX high-performance transceivers with a maximum performance up to 12.5 Gb/s and a peak serial bandwidth of 800 Gb/s.

Availability
The Xilinx Kintex-7 FPGA Connectivity Kit is available now for $2895. For more information on the Kintex-7 FPGA Connectivity Kit, visit www.xilinx.com/k7connkit.com.

About Xilinx
Xilinx is the world's leading provider of All Programmable technologies and devices, going beyond traditional programmable logic to enable both hardware and software programmability, integrate both digital and analog mixed-signal functions, and allow new levels of programmable interconnect in both monolithic and multi-die 3D ICs. The company's products are coupled with a next-generation design environment and IP to serve a broad range of customer needs, from programmable logic to programmable systems integration. For more information, visit www.xilinx.com.

Xilinx, the Xilinx logo, Artix, ISE, Kintex, Spartan, Virtex, Zynq, and other designated brands included herein are trademarks of Xilinx in the United States and other countries. PCI, PCIe and PCI Express are trademarks of PCI-SIG and used under license. All other trademarks are the property of their respective owners.

Xilinx
Bruce Fienberg
408-879-4631
Bruce.Fienberg@xilinx.com

More from Adhesives & Sealants