FPGA-Based I/O Card supports multiple RS-422/485 protocols.
Press Release Summary: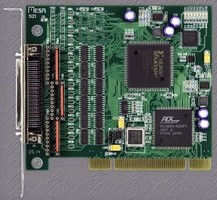 Using 400K gate Spartan3 FPGA and bus mastering PCI bridge, MESA 5I21 programmable serial interface card for PCI bus supports up to 12 full duplex RS-422 or half duplex RS-485 serial links with baud rates up to 10 Mbaud. I/O connector is 68-pin high-density type, and all serial logic is FPGA-based, supporting most RS-422/RS485 protocols. On card serial line termination includes idle line pullups and pulldowns to ensure valid undriven input state.
---
Original Press Release:

New Product 5I21 FPGA Based RS-422/RS-485 I/O Card



The MESA 5I21 is a programmable serial interface card for the PCI bus. The 5I21 is designed for applications using RS-422 and RS-485 interfaces. The 5I21 can support up to 12 full duplex RS-422 or half duplex RS-485 serial links with baud rates up to 10 M baud. The 5I21 uses a 400K gate Spartan3 FPGA and a bus mastering PCI bridge for high performance. Since all serial logic is FPGA based, almost any RS-422/RS485 protocol can be supported. The I/O connector is a 68 pin high density type compatible with standard 100 ohm differential cables. On card serial line termination includes idle line pullups and pulldowns to guarantee a valid undriven input state. The 5I21 is suitable for high performance motion control systems, Industrial I/O, Custom real time distributed I/O, time code generation, supporting legacy hardware, and almost any high speed serial interface application that requires a flexible, high performance, universal RS422/485 serial interface card. Price in 100's is $153.

MESA ELECTRONICS
4175 Lakeside Drive, Ste. 100
Richmond, CA 94806-1950
www.mesanet.com - sales@mesanet.com
phone 510.223.9272 - fax 510.223.9585

More from Non-Industrial Products