FPD/LSI Inspection Microscope enhances observation capability.
Press Release Summary: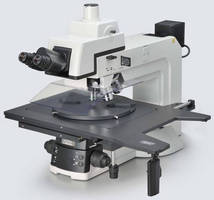 Eclipse L300N/L300ND incorporates Epi-Fluorescence function, enabling 365 nm UV excitation optimal for inspection of semiconductor resist residues on 300 mm wafers and OLEDs. While infinity optics, CFI60, promote image brightness, NA, and sample range, motorized universal nosepiece incorporates anti-flash mechanism to protect operator's eye. Other features include USB interface; 12 V, 50 W halogen illuminator; lamphouse rear mirror; and antistatic coatings.
---
Original Press Release:

Nikon Metrology Enhances Observation Performance and Operation with Introduction of Eclipse L300N/L300ND



Enhanced Epi-Fluorescence Widens Inspection Range - Including Inspection Capability for 300mm Wafers and OLEDs; Motorized Nosepiece is Three Times More Durable

BRIGHTON, MI. - Nikon Metrology, Inc. (www.nikonmetrology.com) introduces the Eclipse L300N/L300ND, a FPD/LSI inspection microscope with an enhanced Epi-Fluorescence function enabling 365nm UV excitation optimal for the inspection of semiconductor resist residues on 300mm wafers and organic electroluminescence displays (OLEDs). The system also incorporates Nikon's world renowned infinity optics, CFI60, offering both image brightness through high NA and wider sample range and access with long working distance.

The motorized universal nosepiece on the Eclipse L300/L300N is three times more durable than conventional models. It incorporates an anti-flash mechanism, which engages when the nosepiece is rotated to protect the operator's eye. In addition, a centering mechanism is possible at three nosepiece positions to minimize image shifts when changing the objective magnification. USB interface is available for nosepiece position output to DS-L2 and U2 as well as control of nosepiece through Nikon's NIS-Elements software.

"With the Epi-Fluorescence observation, UV excitation is now possible. This is highly beneficial in the inspection of semiconductor wafers and OLEDs," said Koji Kiribuchi, Marketing Manager, Nikon Metrology, Inc.

The Eclipse L300/L300ND employs a high-intensity 12V-50W halogen illuminator that is brighter than that of a standard 12V-100W illuminator while consuming half the power. Incorporating a lamphouse rear mirror and optimizing the size of the lamp filament allows effective and uniform illumination on the pupil plane. Objectives with a magnification of 50x or higher benefit from an increased brightness of 20 percent compared to the 12V-100W illuminator. In addition, the Eclipse L300ND model employs a new light source and an advanced optical design, which provides diascopic illumination four times brighter than the conventional model.

In addition, the Eclipse L300N/L300ND feature antistatic coatings for stronger safeguards against contamination. Antistatic coatings have been applied to the body, stage, eyepiece tube and other various controls, helping prevent damage to samples caused by electrostatic charges, thus contributing to higher yields.

ABOUT NIKON METROLOGY
Nikon Metrology offers the most complete and innovative metrology product portfolio, including state-of-the-art vision measuring instruments complemented with optical inspection and mechanical 3D metrology solutions. These reliable and innovative products respond to the advanced inspection requirements of manufacturers active in consumer, automotive, aerospace, electronics, medical and other industries. For more information, visit www.nikonmetrology.com. Product-related inquiries may be directed to Nikon Metrology at 810-220-4360 or Marketing_US@nikonmetrology.com

More from Laboratory and Research Supplies and Equipment