FPC Testing Socket features horse-shoe shaped contact.
Press Release Summary: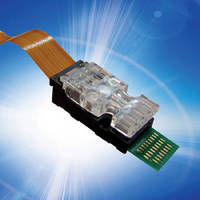 Supporting ultra fine pitches down to 0.3 mm, LC Series Clip Type Socket features specially designed contacts that carry out micro wiping action, ensuring stable, low contact resistance. Elevator stage prevents FPC pads from being damaged or scratched while simultaneously protecting contacts during FPC load/unload operation. As output options, customer can choose discrete wiring, MIL Std., or FPC connector.
---
Original Press Release:

Clip Type FPC Testing Socket



Clip Type FPC Testing Socket with horse-shoe shape contact and elevator FPC stage

Munich, - Ongoing miniaturization and further product complexity - due to the increased number of product sub-assemblies - require a reliable temporary contacting system to outperform the current FPC sub-assembly test. To ensure the performance of even more complex FPC sub-assemblies within a system, Yamaichi designed the LC Series, a smart and operator-friendly testing jig.

The development target was to create a user-friendly und high reliable contact system which enables the customers to perform their product functionality test. The challenges were the ultra fine pitches down to 0.3mm and simultaneously dealing in parallel with the FPC production tolerances. The design of the LC Series is successful in overcoming the challenges.

The LC Series comes with special designed contacts carrying out a micro wiping action and thus ensures a stable and low contact resistance. Another feature is the elevator stage preventing the FPC pads from being damaged or scratched, and protecting simultaneously the contacts during the FPC load/unload operation.

This clothes-pin mechanism guarantees an outstanding reliability and easy-to-use operation. As an output option the customer can choose between discrete wiring, MIL Std. or FPC connector.

For further enquiries please contact Thomas Rein, phone + 49 (0)89 - 4 51 90-234 or visit our website under www.yamaichi.de

About Yamaichi Electronics

Yamaichi is a market leader for Test & Burn-In sockets, connectors and connection systems, the reliability and functional dependability of which are absolutely essential for the success of the overall project. Yamaichi has very quickly established itself on the world market as a manufacturer of top-quality reliable components for sophisticated applications in the fields of photovoltaic, telecommunication infrastructure, industrial automation, mobile computer technology, mobile telephones, GPS systems, printers, digital cameras, camcorders and a multitude of other appliances for the retail trade, industry and electronics.

Yamaichi Electronics Deutschland GmbH

Karl-Schmid-Str. 9, 81829 München, Germany

Phone +49 (0)89 - 4 51 09-0

Fax: +49 (0)89 - 4 51 09-110