Four Tube Sizes in One Bender from Classic Tube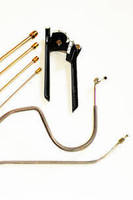 Lancaster, NY: Talk about a versatile combination tool, this is the ultimate hand-held tubing bender on the planet! Three bending channels cover four of the most popular small diameter tube sizes. It's not only handy for automotive tubing repairs or fabrication; it also can be used for household or any number of other tubing fixes. This unique tube bender from CLASSIC TUBE (#3755) is powder coated for long lasting durability. The 4-in-1 tube bender allows accurate centerline and offset bends.



This handy tool will bend both 3/16 and ¼-inch (one groove does both sizes), 5/16 and 3/8-inch tubing. It will provide smooth bends starting at 0-degrees, and going up in 15-degree increments to 180-degrees. It's perfect for the do-it-yourselfer or professional mechanic, and covers all tubing sizes for most cars and trucks. How many times would this tool have come in handy for your projects? Time to put one in your toolbox!



CLASSIC TUBE is the industry leader in pre-bent stainless and OE steel tubing for most import and domestic cars and trucks. They have complete fuel and brake line kits, transmission lines, vacuum and hydraulic lines and will make custom lines from your supplied pattern. StopFlex D.O.T. approved stainless braided brake hoses are always available.



For additional information on all their handy tools and fluid transfer products contact CLASSIC TUBE, 80 Rotech Drive, Lancaster, NY 14086, 800-882-3711, Fax: 716-759-1014, www.classictube.com.



Related