Four-Port Long Range RFID Reader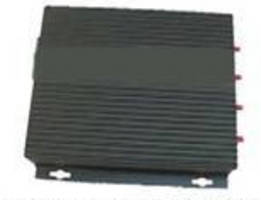 Toronto, Canada - GAO RFID Inc. (GAORIFD.com) has rolled out a four-port long range reader operating over the frequencies of 902 to 928MHz. It is compliant with ISO 18000-6B and ISO 18000-6C protocols and has a maximum read distance of 8cm. The robust RFID reader is intended for use in logistics, ticketing and access control, pharmaceuticals, parking lots and automatic weighing stations.

This four-port RFID reader, model 216014, features a fast read rate, great flexibility, excellent anti-interference with Frequency Hoping Spread Spectrum (FHSS), multi-reader synchronization and several communication interfaces including RS232, RS485 and Ethernet. It has two triggering inputs and two relay outputs and also offers LED status indicators for antenna, communication, power and RF. The robust reader supports three tag identification modes which are auto, external and software command. Operating frequency can be set through software to either FHSS or fixed frequency. RF power range of this reader is adjustable from 20 to 30dBm.

Visit www.GAORFID.com for more information.

For any sales inquires please contact:

1-877 585-9555 ext. 601 - Toll Free (USA & Canada)

1-416 292-0038 ext. 601 - All Other Areas

[email protected]

About GAO RFID Inc.

GAO RFID Inc. (www.GAORFID.com) is a leading provider of RFID Readers, RFID Tags and RFID software providing cost saving solutions to end users worldwide. GAO offers all RFID technologies: Low Frequency (LF), High Frequency (HF), Ultra High Frequency (UHF, Gen 2) as well as Active and Semi-Passive. GAO RFID's products and services are easily customized for use in asset tracking,healthcare, supply chain & logistics, event management, access control, livestock tracking, inventory control & management, field service maintenance and document authentication.