Four-Cylinder Engine suits off-highway equipment.
Press Release Summary: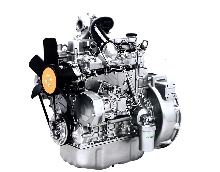 Series 800 3.3 liter, 4-cylinder engines, in 58 to 80 hp power band, is available in naturally aspirated, indirect-injection (IDI) and turbo-charged, direct-injection (DIT) versions. IDI version provides lower noise and emissions, and turbo-charged DIT version provides maximum power output while still remaining within emissions and noise targets. Series exceeds EU and North America Stage 2/Tier 2 off-highway emissions legislation.
---
Original Press Release:
Perkins 800 Series Launched At Conexpo 2002

Las Vegas, March 19 -- Perkins Engines Company has reaffirmed its commitment to the medium-duty off-highway equipment sector by launching a compact new engine in the 43 - 60kW (58 - 80 hp) power band.

The Perkins 800 Series is a family of two 4-cylinder engines offering a class-leading capacity of 3.3 liters - a 10 per cent increase on its predecessor, the Perkins 700Series, in a package that is comparable in size.

The result is an engine that delivers excellent power performance while coming on stream well ahead of all EU and North America Stage 2/Tier 2 off-highway emissions legislation. And, by offering the choice of both naturally aspirated, indirect-injection (IDI) and turbo-charged, direct-injection (DIT) versions, the Perkins 800 Series offers customers the best of both worlds:

- with the IDI version, the increased cubic capacity means customers can enjoy all the benefits of lower noise and emissions traditionally associated with indirect injection engines without compromising on power delivery, and

- by choosing the turbo-charged DIT version, they can opt for the maximum power output available to boost machine productivity while still remaining well within emissions and noise targets.

"The Perkins 800 Series is a really great blend of product technologies," explains Michael Wright, marketing manager - new products. "It is also the latest demonstration of our ability to tailor engines to meet customer needs from within our total power range of 4 to 2000 kW (5 to 2600 hp). This engine dovetails nicely with the recently launched Perkins 400 and 1100 Series ranges, giving customers just the level of power they need whatever their application and wherever in the world they are operating."

High productivity and quality from a dependable solution

Perkins is the world's leading supplier of off-highway diesel and gas engines in the 4 - 2000 kW (5 - 2600 hp) market. More than 300,000 engines are manufactured every year to 21,000 different specifications. And over 1000 major international OEM's in the construction, agricultural, power generation, materials handling, and defense markets choose Perkins to provide their power.

Perkins customers demand engines that can deliver high levels of productivity throughout the working day. With its class-leading cubic capacity, the Perkins 800 Series delivers excellent power in the naturally aspirated IDI version. Meanwhile, the direct-injection, turbo-charged DIT version extends the range output to an impressive maximum of 60kW (80 hp), helping customers to boost machine effectiveness.

The other key aspect of productivity is maximizing 'up-time'. The Perkins 800 Series engine has market-leading levels of quality and reliability.

Better performance, better for the environment

Concern for the impact of a machine on the environment is at the forefront of customer thinking. As well as being fully Tier 2/Stage 2 compliant from day one, the Perkins 800 Series also meets 'subjective' emissions requirements such as barely visible smoke and low noise levels. Not only does the new Perkins 800 Series offer a noise reduction of between 1 and 3 dB(A) but smoke levels under normal operating conditions are so low as to be barely visible. In addition, an eco-friendly fuel filtration system minimizes the amount of waste arising from engine servicing.

Low cost of ownership throughout a machine's life

The Perkins 800 Series offers excellent fuel efficiency with 500-hour service intervals and a two-year warranty as standard across the range. These changes will radically drive down the cost of owning and operating a Perkins-powered machine.

Unrivalled product support across the world

Perkins customers are concerned with how an engine performs in its totality and particularly demand the parts and service support that only a global manufacturer can offer. Perkins has developed a major new system called The Integrated Parts and Service System (TIPSS), which uses the latest technology to transform the provision of parts information and service expertise out in the field.

A total solution for the global marketplace

Adrian Heath, product director of 800 Series, says: "Many engine manufacturers only make products to satisfy the needs of a particular territory. But by listening to our customers, we have developed an engine that can operate across the world, with all the support of our global parts and service network.

"Through the Perkins 700 Series, we have recently built a strong position in the key medium-duty engine sector. With the Perkins 800 Series, our aim is to continue that growth by giving customers a solution that satisfies their product objectives while fully meeting oncoming emissions targets."

Information:
Marion King (king_marion@perkins.com)
Perkins, Peterborough England 011 441 733 582197

Doug Drummond (nationaled@aol.com)
National Editorial Services
195 West Nine Mile Road, #207
Ferndale, MI 48220
248.548.744

More from Electrical Equipment & Systems