Four-Channel, 12-Bit DAC incorporates non-volatile EEPROM.
Press Release Summary: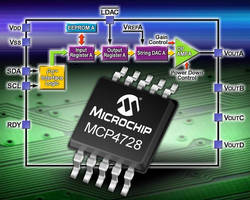 Supplied in 10-pin MSOP, MCP4728 lets designers program input codes, configuration bits, and I²C(TM) address bits to integral EEPROM so that data is held during power-off time. This makes configuration and outputs available immediately after power-up. Also, each channel can be individually shut down, reducing power consumption to as low as 0.04 µA, to extend battery life. On-chip precision output amp enables rail-to-rail analog output for utilization of entire voltage range.
---
Original Press Release:

Industry's First 12-bit Quad Digital-to-Analog Converter with Non-Volatile EEPROM Released by Microchip Technology



Previous DAC Configuration is Loaded Automatically On Start Up

CHANDLER, Ariz., July 13, 2009 [NASDAQ: MCHP] - Microchip Technology Inc., a leading provider of microcontroller and analog semiconductors, today announced the MCP4728 Digital-to-Analog Converter (DAC)-the industry's first 12-bit Quad DAC to include non-volatile EEPROM, which enables the DAC's configuration to be loaded automatically on start up. With this capability, plus its four-channel architecture and internal voltage reference, the MCP4728 DAC reduces design size and cost for a variety of battery-powered and power-constrained applications.

Non-volatile EEPROM provides designers the flexibility to program MCP4728 DAC input codes, configuration bits and I2C(TM) address bits to the EEPROM using I2C serial-interface commands. The result is that this data is held during power-off time, making the MCP4728 DAC's configuration and outputs available immediately after power-up. Additionally, each channel in the MCP4728 DAC can be individually shut down, thereby reducing power consumption to as low as 0.04 microamperes, which helps to extend battery life. Further, the on-chip precision output amplifier enables a rail-to-rail analog output, for utilization of the entire voltage range.

"Microchip has utilized its expertise in both non-volatile memory and mixed-signal technology to provide added flexibility to customers with the MCP4728 DAC," said Bryan Liddiard, vice president of marketing with Microchip's Analog & Interface Products Division. "Being the first 12-bit Quad DAC in the industry to integrate non-volatile EEPROM, the MCP4728 is expected to help designers meet or exceed cost and size requirements, while providing the resolution and low power consumption that today's battery-powered and power-constrained electronic devices require," continued Jefferay Lawton, product marketing engineer with Microchip's Analog and Interface Products Division.

Applications
The MCP4728 DAC is appropriate for applications in the consumer (personal media players, digital cameras and GPS devices); medical (portable glucose meters, blood pressure and heart-rate monitors); industrial (handheld instruments, motor-control applications, and temperature and light control); appliance (washing machines and espresso machines); and automotive (LED lamps and alarm/security systems) markets. The DAC complements Microchip's PIC18F87J93 8-bit microcontrollers for medical and metering applications, also announced today.

Development Tool Support
The MCP4728 Evaluation Board (Part # MCP4728EV, $15) is available to help designers quickly evaluate the MCP4728 DAC in their applications. The board works with Microchip's popular PICkit(TM) Serial Analyzer (part # DV164122, $49.99), or independently with the customer's application board. It can be purchased today, at www.microchipdirect.com.

Device Packaging, Pricing & Availability
The MCP4728 DAC is available in a 10-pin MSOP. Samples are available at sample.microchip.com today. The DAC can be purchased at www.microchipdirect.com today, for $1.36 each in 10,000-unit quantities. For further information, contact any Microchip sales representative or authorized worldwide distributor, or visit Microchip's Web site at http://microchip.com/mcp4728.

Microchip Customer Support
Microchip is committed to supporting its customers by helping design engineers develop products faster and more efficiently. Customers can access four main service areas at www.microchip.com. The Support area provides a fast way to get questions answered; the Sample area offers evaluation samples of any Microchip device; microchipDIRECT provides 24-hour pricing, ordering, inventory and credit for convenient purchasing of all Microchip devices and development tools; finally, the Training area educates customers through webinars, sign-ups for local seminar and workshop courses, and information about the annual MASTERs events held throughout the world.

About Microchip Technology
Microchip Technology Inc. (NASDAQ: MCHP) is a leading provider of microcontroller and analog semiconductors, providing low-risk product development, lower total system cost and faster time to market for thousands of diverse customer applications worldwide. Headquartered in Chandler, Ariz., Microchip offers outstanding technical support along with dependable delivery and quality. For more information, visit the Microchip website at www.microchip.com.

Note: The Microchip name and logo, and PIC are registered trademarks of Microchip Technology Incorporated in the U.S.A. and other countries. PICkit is a trademark of Microchip Technology Inc. in the U.S.A. and other countries. All other trademarks mentioned herein are the property of their respective companies.

Photos and Block Diagram available through editorial contact, or Flickr:
MCP4728 DAC Photo
http://www.flickr.com/photos/microchiptechnology/3672615191/sizes/l/

Block Diagram
http://www.flickr.com/photos/microchiptechnology/3662460709/sizes/l/

MCP4728 Evaluation Board Photo
http://www.flickr.com/photos/microchiptechnology/3662460673/sizes/l/

RSS Feed for Microchip Product News:
http://www.microchip.com/RSS/recent-PRProduct.xml

More from Sensors, Monitors & Transducers