Foundry Scrubbers remove amines and SO2.
Press Release Summary: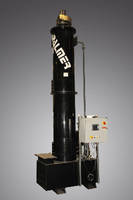 Suitable for removing foundry particulate emissions, Scrubbers come in 2,500, 4,000, 6,000, 10,000, and 20,000 cfm models. Units provide 99% removal efficiency with inlet loading of 335 ppm. Fabricated from polypropylene, scrubbers feature vertical design, automatic charging and pH monitoring, and color touch screen. HMI Ethernet communication is available and hinged window kit is optional.
---
Original Press Release:

Palmer Manufacturing & Supply, Inc., Introduces New Line of Scrubbers



SPRINGFIELD, OH (October 2009) - Palmer Manufacturing & Supply, Inc., recently introduced a new line of Scrubbers for Amines and SO2..

Significant features:
o 99% removal efficiency with Inlet loading of 335 ppm
o Automatic Charging & pH Monitoring
o Sizes: 2500cfm, 4000cfm, 6000cfm, 10000cfm, 20000cfm. Custom and larger sizes available.
o Fabricated from durable polypropylene
o Vertical design
o Color Touch Screen
o HMI Ethernet communication available
o Hinged Window Kit - optional

"Foundries will find our new Scrubber line a solution to the new limits on foundry particulate emissions and appreciate that they are easily adaptable to any foundries' conditions. We have foundries reporting 99.99% removal efficiency rates with our new Scrubber," said Jack Palmer, President of Palmer Manufacturing, Inc.

About Palmer Manufacturing

Since 1968, Palmer Manufacturing has specialized in the production and engineering of heavy-duty foundry equipment including: sand mixers, no bake molding systems and components, core room equipment, shake-out reclamation & knock-out equipment, mold handlers, bulk storage and handling equipment, pumping systems, resin heating systems, sand conditioning, compaction tables, mold and core coating equipment., as well as complete systems and engineering services.

Palmer is a global company with sales, service and support to USA, Mexico, Canada, Australia, Europe and South America.

Company Contact:

Jack Palmer

sales@palmermfg.com

Corporate Office

Palmer MFG & Supply,

18 Bechtle Ave.

Springfield, OH 45504 USA
Toll Free: 800-457-5456

TEL: 937-323-6339

FAX: 937-323-2709

sales@palmermfg.com

www.palmermfg.com

More from Material Processing