Forrest's Custom Woodworker II Blades Deliver Fast, Clean, Ultra-reliable Dovetail Cuts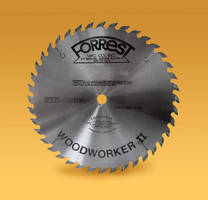 Blades are Factory-Customized to the Angle and Tilt Specified by Each Customer

CLIFTON, New Jersey, -Forrest Manufacturing's Custom Woodworker II blades are playing an important role in helping woodworkers make strong, attractive dovetail joints. Growing numbers of craftsmen rely on this customized blade to create the dovetails so integral to the production of quality boxes and chests, for attaching drawer fronts, for joining shelves to cabinet sides, for fine cabinetry, and for dozens of similar applications.

Forrest Manufacturing supplies Custom Woodworker II blades to match the specific requirements of individual craftsmen. According to company vice president, Jay Forrest, "It is faster and easier to use our Custom Woodworker II to make dovetails than to use a dovetail bit with a router. So more and more woodworkers are asking us to customize our blades accordingly.

"Blade specifications vary depending on the type of dovetail being made, the specific application, and the type of wood being used. Once the customer tells us what he wants, we custom grind the blade's carbide tip so that the bevel matches the specified angle and tilt. In this way, individual craftsmen get a Custom Woodworker II blade that perfectly fits their needs and that delivers the ultra-dependable dovetail cut they want. As far as I know, no one else offers this level of customized service."
Custom-Ground Blades in Just 7 to 10 Days

According to Mr. Forrest, the most common angles specified for dovetail cuts are 11º, 9º, 7º, and 5º. But he adds, "We get requests for just about every imaginable angle and are glad to accommodate these orders. We can give customers essentially any combination of angle and tilt they want. These custom-ground blades are usually shipped within seven to ten days. This type of prompt, personalized service truly sets Forrest apart from other companies.

"Our Custom Woodworker II blades are ideal for making all types of dovetail cuts, whether they are half-blind dovetails, through dovetails, sliding dovetails, or full-blind dovetails. Customers will be pleased to know that we carefully etch the angle and tilt right on the blades to help ensure they'll be properly handled when it's time for sharpening."

Unique Options for Complex Requirements

Forrest's Custom Woodworker II saw blade is a quality product for the advanced operator. It is ideal for joinery and special applications. It offers expanded capabilities and a choice of grind selections. In addition to dovetail cuts, the blade can be ground for making box joints and flat bottom grooves and can also accommodate high feed rates.

The Custom Woodworker II blade, like other Forrest blades, is precision-engineered using the finest blend of corrosion-resistant C-4 micro grain carbide. The blades are then hand-straightened for perfect flatness. As a result, there is exceptional perimeter concentricity and a side runout of +/- .001. The Custom Woodworker II for dovetail cuts has 40 teeth, a 1/8" kerf, a 5/8" bore, and a 20º hook. It lists for $138.00. The catalog number is WW1040D125.

Forrest blades maintain their performance up to 300% longer between sharpenings, thanks to the company's emphasis on quality and its proprietary grinding techniques. All Forrest blades, including the Custom Woodworker II, come with a 30-day, money-back guarantee.

Among the company's other custom and specialty products are the Woodworker II, Dado King, Duraline, Concave Face, and Chop Master blades. Customers are encouraged to maximize the performance of their blades by taking advantage of Forrest's state-of-the-art factory sharpening. This service is available at reasonable rates for all brands of carbide-tipped circular saw blades.

Made in the U.S.A.

Forrest Manufacturing has been a family-owned business since its very beginning in 1946. It is the only leading supplier of quality blades that continues to manufacture its products in the United States. Almost 65 years after its founding, Forrest remains firmly committed to serving the needs of professional woodworkers and serious hobbyists. The company also prides itself on providing the very finest in knowledgeable, customer-friendly service.

Forrest blades can be obtained direct from the factory, as well as from quality dealers, retailers, and catalogs. For more information, call 1-800-733-7111 or visit www.ForrestBlades.com.

Forrest's Custom Woodworker II is ideal for making quality dovetail cuts. Customers can specify the angle and tilt they want. These customized blades are usually shipped in 7 to 10 days and come with the company's 30-day, money-back guarantee.

More from Sensors, Monitors & Transducers