Forrest Miter Master Blades Set the Pace for Professional Quality and Performance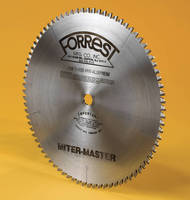 Manufacturers and serious woodworkers have found that these blades deliver
the ultimate miter cuts on wood, aluminum, and PVC. They are ideal for use
on all makes of single or double miter saws.

CLIFTON, New Jersey - Forrest's wide selection of Miter Master Saw Blades continues to be a popular choice of industrial firms and commercial enterprises seeking to make fast, reliable miter cuts with no bottom splinters. These premium carbide-tipped circular saw blades are suitable for wood, aluminum, high-end paper wraps, PVC, copper, and brass. Customers include manufacturers of picture frames, window frames and sashes, blinds, moulding, and fine millwork of various kinds. Serious craftsmen and woodshops also specify these blades for their toe-notching applications.

High Production Standards for Superior Performance

Forrest Miter Master Saw Blades make precise 45º cuts and deliver perfect 90º joints with no gaps. They are suitable for all makes of single and double miter chop saws, as well as for various table saws and radial arm saws. Customers can specify blades with either 80 or 100 teeth.

In discussing the popularity of the Miter Master line, Jay Forrest, the company's vice president, said, "We've been making these professional-quality blades for quite some time. They continue to be very popular because of the important features we build in. For example, all our Miter Masters are made of a heavier-than-normal steel plate for maximum stability. We also give these blades a 0º hook for optimum rigidity."

Engineered for Quiet Operation

Forrest has precision-engineered its Miter Master Blades to substantially reduce the extremely loud harmonics commonly produced by other brands of blades. Vice-President Forrest explains, "Customers have complained that other makes of miter blades literally 'scream' when in use. We've solved this problem by giving our Miter Master Blades redesigned expansion slots and tooth profiles. As a result, they are quieter than any other miter blade on the market today. At the same time, they deliver straighter, smoother cuts. The vastly improved harmonics are especially significant in industrial and commercial operations where miter saws are running continuously over a considerable period of time. For example, Forrest's quieter blades are ideal for use in factories where picture frames, door frames, or blinds are being manufactured in a production line process."

Mr. Forrest goes on to say, "Our Miter Master Blades are the 'Cadillac' of miter blades. They are hand straightened to ensure perfect flatness and are hand polished-never mass produced. Forrest blades also have exceptional perimeter concentricity and side runout of +/1 .001. We use tough, corrosion-resistant C-2 carbide tips on Miter Masters. Customers can specify even harder C-4 carbide for an additional 20% charge. Our proprietary manufacturing techniques tend to make Forrest blades last up to 300 percent longer between sharpenings, compared to the products of other manufacturers. Any way you look at it, our Miter Masters deliver the ultimate in quality performance and quiet cuts."

Different Tooth Styles for Different Applications

Forrest's Miter Master Blades can be used on multiple materials, depending on the tooth styles specified. The #6 ATBR tooth configuration is perfect for oak, exotic woods, and high-end paper wrap. This makes it ideal for toe-notching of picture frames, for crown molding, and for fine millwork. The #7 ATB tooth configuration is commonly specified for the wood and aluminum combinations used in making window frames and sashes. The #2 TCG tooth configuration is designed for cutting aluminum, PVC, copper, and other non-ferrous metals, as well as vinyl. As a result, this blade is often used in the manufacture of window frames. Woodworkers will find that all three tooth styles are perfect for producing picture frames.

There are seven Miter Master Blades currently available. These include a 9" diameter blade, two 10" blades, two 12" blades, and two 14" blades. The 9" model has 80 teeth, while the other models are available with either 80 or 100 teeth. List prices range from $199 for the 9"-diameter Miter Master to $265 for the 14"-diameter model with 100 teeth. The 100-tooth blades are especially suited for brittle materials where faster cuts and less tear-out are important. Forrest will gladly make modifications to its Miter Master Blades for special applications.

Forrest's Long-Term Commitment to Quality

Forrest Manufacturing has been dedicated to the needs of woodworkers and serious hobbyists since the company was founded in 1946. Over the intervening 65 years, Forrest has earned an outstanding reputation for innovation and leadership. The company is family owned and produces all its products in the United States. In addition to this commitment to made-in-America excellence, Forrest personnel pride themselves in providing the very best in knowledgeable, friendly customer service. All Forrest blades come with a 30-day, money-back guarantee. And the company also offers affordably priced, state-of-the-art factory sharpening of all brands of carbide-tipped, circular saw blades.

Among Forrest's custom and specialty blades are its Signature Line Chop Master, Finger Joint, Duraline, Concave Face, and nonferrous cutting blades. Forrest's two most popular blades, the Woodworker II and the Dado King, have received numerous awards and recognition from industry experts who regularly test and review saw blades for quality of cut and cost-to-value ratio.

Forrest blades are available from fine-quality dealers, retailers, and catalogs, as well as direct from the factory. For more information, call 1-800-733-7111 or visit www.ForrestBlades.com.


More from Architectural & Civil Engineering Products