Forrest Manufacturing Remains Committed to Providing State-of-the-Art Factory Sharpening and Repairs of All Makes of Carbide-Tipped Circular Saw Blades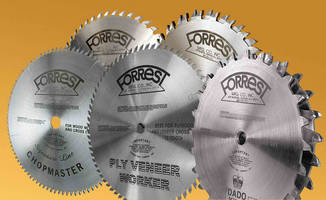 The company's sophisticated, in-factory technology and more than six decades of experience help prolong blade life and performance. About 500 customers a week look to Forrest for sharpening and/or repair services.

CLIFTON, New Jersey - At a time when many companies don't offer such services, Forrest Manufacturing continues to provide affordable, in-factory sharpening and repairs of all makes of carbide-tipped circular saw blades.

According to Vice President Jay Forrest, "We realize that a properly performing blade is essential to delivering a good, reliable cut and to achieving the positive results woodworkers and others expect from their blades. Unfortunately, other companies are often only interested in selling new products. They regard sharpening and repairs as too labor-intensive or as not profitable. But at Forrest, we look at things differently. We recognize these as important, much-needed services. So we continue to provide reliable, state-of-the-art, in-factory sharpening-not just for Forrest blades-but for other brands as well. In addition, we continue to offer repairs-such as tooth straightening and tip replacement-for all types and makes of carbide-tipped circular saw blades."

Forrest's Two-Step Sharpening Process

There are several things that indicate a blade needs sharpening. For example, it may begin to feed slowly or cause chipping. Or it may run excessively hot and cause burning, especially when used on veneer or melamine.

Blade dullness often results from the abrasion caused by normal wear and tear or by resin buildup. In other cases, it can be caused by encounters with a nail or some other object. At other times, it may be caused by using the wrong blade for a given application. These factors can result in a microscopic wearing down of the blade's carbide cutting edge, causing it to become shiny and rounded.

Jay Forrest explains, "The type of usage a blade receives is an important factor in determining how soon it needs sharpening. For example, an industrial concern that cuts melamine for eight hours a day may need to change blades daily. A furniture manufacturer working with exotic hard wood is likely to need blade sharpening more often than someone using soft woods. On the other hand, some hobbyists may go years-even decades-without sharpening their carbide-tipped circular saw blades."

Whatever the cause of the problem, it can usually be corrected with Forrest's in-factory sharpening. The process takes approximately 20 minutes per blade and utilizes automated, high-speed, diamond-grit machines with flood cooling. The first step is to sharpen the front of the tip by face grinding. The second step is to fine-finish the top cutting edge. Removing too much carbide can shorten blade life. So Forrest's process removes only a miniscule amount-about .010" to .020". As a result, a Forrest blade-if operated normally-can usually be sharpened 8 or 10 times over its life.

Important Advantages of In-Factory Sharpening

Regarding the advantages of precise, in-factory sharpening, Vice President Forrest says, "People sometimes ask why they should send their blades to us instead of
going to some local source. The answer is fairly apparent. Even if you can find someone to do the sharpening in your area, they're not likely to have access to the sophisticated, heavy-duty diamond-grit wheels, the automated CNC facing and topping machines, or the flood cooling that we have in our factory. Equally important, Forrest has been providing blade sharpening since 1946. So we have many, many decades of experience under our belt. When you combine this expertise with our state-of-the-art equipment, it makes a compelling case for trusting your quality blades to Forrest. That's why the only sharpening we regard as 'factory-authorized' is done at our facility here in Clifton, New Jersey."

Mr. Forrest goes on to say, "Once we've sharpened a blade, it usually produces a cut that's equal to that of a new blade. It's obvious that many woodworkers and others-regardless of their brand of blade-agree that our expert, in-factory sharpening is the smart, safe, and cost-effective way to go. We currently process about 500 blades per week. That's well over 25,000 a year. And the mix is about 50/50 between Forrest blades and those of other manufacturers."

Expert Blade Repair

No matter how careful woodworkers or other craftsmen may be, it is possible they will need repairs to their saw blades at one time or another. For example, a saw blade may be damaged by a loose throat plate, by hitting a nail or some other foreign object, by moisture, by improper storage, by dropping, or even by a safety mechanism abruptly halting a rotating blade.

Fortunately, Forrest offers a full range of services to restore the operation and effectiveness of damaged blades. These repairs and adjustments include straightening bent teeth, replacing tips, re-grinding both sides of all teeth, providing extra top grind for extremely dull blades, opening gullets, tightening or enlarging the bore, welding or replacing steel shoulders, and more.

Although Forrest repairs all makes of circular carbide-tipped saw blades, most of the work requested on products produced by other manufacturers involves either sharpening or tip replacement. On the other hand, owners of Forrest blades are eager to take advantage of the full range of proprietary services that can often restore blade performance to something that approximates "as good as new." Craftsmen appreciate that Forrest blades are precision-engineered from corrosion-resistant, super-strong C-4 micro-grain carbide. This alone provides up to 300% longer life between sharpenings than other carbide blades. And they like the fact that Forrest blades are hand-straightened to ensure perfect flatness and have exceptional perimeter concentricity and side runout of +/- .001.

Affordable Pricing

Forrest Manufacturing is firmly committed to helping craftsmen and hobbyists maintain the life and performance of their carbide-tipped circular saw blades. For this reason, the company keeps sharpening and repair costs as affordable as possible. Charges for sharpening vary according to the diameter of the blade and the number of teeth. For example, sharpening a carbide blade with a diameter up to 12" and with 32-40 teeth currently costs $21.50. A dado set with 14-24 teeth on the outside blade and 4+ tooth chippers currently costs $60.50. Rates for specific blades, dado sets, or other products (such as groovers/cutters, router bits, and planer knifes) can be obtained by contacting Forrest.

The cost of blade repair varies according to the task-and sometimes the time-involved. For example, the charge for straightening bent teeth is $2.50 per tooth. Replacing one tip costs $7. Replacing multiple tips is priced according to quantity. If the expense for repairs is going to run more than 60% of the cost of a new blade, Forrest will consult with the customer to determine the best course of action.

Customers are responsible for paying shipping costs to and from the factory.

According to Mr. Forrest, "Our in-factory turnaround usually runs about a week. But it is important that customers allow for the shipping time required for their blades to reach us and for us to ship them back. They also need to package blades carefully, include instructions as to what they want done, and-most especially-tell us their name, address, and how they can be contacted. As important as this is, some people forget to give us this information and that obviously holds up the process. That's why we strongly encourage customers to download, fill out, and enclose the Sharpening Request Form that's on our website."

A Company Committed to the Highest Standards

Forrest Manufacturing has been a family-owned business since it was founded in 1946. The company's commitment to maintaining the highest standards of American workmanship and quality is clearly demonstrated by the fact that all Forrest blades are made in the United States. This runs counter to the growing trend at other firms to outsource production to Europe or Asia.

Craftsmen know they can depend on Forrest for leadership, innovation, and superior products. Many Forrest employees have been with the company for two decades or longer. Regardless of their position, these personnel remain dedicated to giving customers the very best in courteous, knowledgeable service.

Award-Winning Products

Forrest offers a wide variety of standard and custom products. These include its Signature Line Chop Master, Finger Joint Sets, Duraline Hi-A/T, Concave Face blades, and nonferrous saw blades. The company's two most popular products are its Woodworker II line and Dado King. Both of these have received numerous awards and recognition from industry experts who regularly test and review saw blades for quality of cut and cost-to-value ratio.

Forrest blades are available from fine-quality dealers, retailers, and catalogs, as well as direct from the factory. Customers can order Forrest blades in complete confidence because they come with a 30-Day, Money-Back Guarantee.

For more information about rates for sharpening and/or repairs, contact Forrest Manufacturing at 800-733-7111 (973-473-5236 in NJ) or by visiting the company's website at www.ForrestBlades.com. Please note that all prices are subject to change.