Forrest Manufacturing Offers Accessories to Improve Saw Blade Performance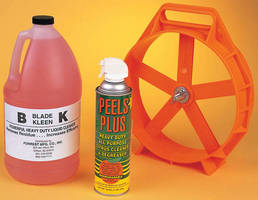 SuperBar(TM) and MasterPlate(TM) Tools Tune and Align To Ensure Accurate Blade Angles and Cuts

CLIFTON, New Jersey - Forrest Manufacturing, renowned for its quality blades, is now offering the American-made SuperBar(TM) and MasterPlate(TM) tools to enable woodworkers to tune up, align, and calibrate table saws for maximum saw blade performance.

"Even the finest saw blades won't produce quality results if they're improperly aligned," explains Jay Forrest, president of Forrest Manufacturing. "If a blade is not parallel to the saw fence, it can squeeze the wood between the blade and the fence, causing it to burn while ripping. Likewise, a cross cut board won't be the same length on one side as the other if the saw blade isn't parallel to the miter slots in the table top. And miter cuts won't occur at the desired angle if the arbor of the saw isn't tuned properly."

The SuperBar(TM), with its on-board precision dial indicator, and the precision-ground, specially designed aluminum MasterPlate(TM) enable woodworkers to tune a table saw within thousandths of an inch in just a few minutes. Together, the precision tools
align the saw blade and the fence parallel to the miter slot. They also square the miter gauge to the saw blade and check run out on the arbor shaft. Additionally, they can be used to check run out on routers, drill presses, shapers and other equipment.

"Proper alignment is absolutely crucial when precision joints are required or when any type of assembly demands precision cuts," says Forrest. "Without proper alignment, gaps are inevitable. Angles need to be set accurately for precision performance."

The SuperBar(TM) fits all standard ¾ and 3/8 miter slots, as well as the Sears-brand .740 slot. The MasterPlate(TM) has 5/8 and one inch diameter mounting holes and works with table, radial arm, sliding compound miter, manual miter and chop saws. It can also be used with disk sanding machines.

Either tool can be used individually, but Forrest recommends both for best results and offers a $10 discount when the two tools are purchased together.

Other Saw Blade Accessories
To further ensure proper saw blade performance, Forrest Manufacturing also offers Blade Klean kits with a special brush and spray bottle. Blade Klean is the same industrial-strength, ammonia-based mixture Forrest uses in-house to clean blades. Diluted with water, the special formula removes pitch, sawdust and gum from saw blades.

"Many soft woods have a high sap or moisture content that can produce buildup on the teeth of a blade, reducing its performance and even creating burning problems,"
notes Forrest. "Soaking the blade for about five minutes and then brushing it will improve the performance and lifetime of a blade."

To protect saw blades in the workshop or onsite, Forrest Manufacturing also offers The Blade Runner®, a high-impact plastic carrying case that can accommodate up to ten 10-inch blades held in place by a locking steel arbor. The case features a circular sheath that prevents damage to carbide blades even if dropped, and sides marked sharp and dull to keep track of blade condition. It also has a handle for carrying or mounting on pegboard hooks and a self-supporting base allowing it to stand on any level surface.

About Forrest Manufacturing

Forrest Manufacturing is a family-owned business founded in 1946. Well respected for its quality products and superior customer service, it produces a variety of custom and specialty blades, including the Woodworker II, Dado King, Duraline, Concave Face and nonferrous cutting blades. Forrest blades and accessories are available direct from the factory, as well as from fine-quality dealers, retailers and catalogs. For more information, call 1-800-733-7111 or visit www.ForrestBlades.com.

More from Materials