Formaldehyde-Free Wood Products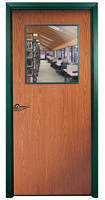 Overly Door Company is pleased to announce that, in keeping with the company's LEED Initiative, all Overly wood and plastic laminate products contain no added urea formaldehyde resins in their manufacture. This includes both Overly's UL fire rated and non-fire rated wood acoustic door systems.

The goal of Overly Door's LEED Initiative is to provide the architectural and design community, our customers and prospective customers, with an informed resource to help them understand the various requirements of building "green," and the specialty door products designed and manufactured to achieve that end.

Overly Sound Control Products have always been lead-free, asbestos-free and formaldehyde-free, including: Acoustical Metal Swinging Doors; Oversized Swinging Doors; Horizontal Sliding Doors; and, Fixed Window Systems.

As cited in LEED® Credit EQ-4.4: Low Emitting Materials - Composite Wood & Agrifiber urea formaldehyde is commonly used in composite wood products such as hardwood plywood, particleboard, and medium density fiberboard (mdf). In commercial buildings, these board products are typically used as substrates for cabinetry, paneling and other millwork items, as binder (typically exterior grade softwood miscellaneous blocking or mounting panels, and as panels) cores or stabilizing layers in wood doors. The intent is to reduce the quantity of indoor air contaminants that are odorous, irritating, and or harmful to the comfort and well-being of installers and occupants.

For more information, visit www.overly.com or email overly@overly.com.


More from Architectural & Civil Engineering Products