Form Measuring Machine has measuring volume of 1 liter.
Press Release Summary: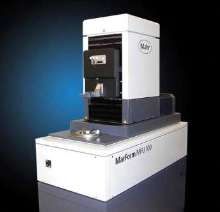 MarForm(TM) MFU 100 delivers lab-quality 3D and form measurements to shop floor. In addition to cylindricity, concentricity, and parallelism, MFU 100 measures diameter and angle on parts such as sealing cones. Motorized centering tilt table, in conjunction with T7W motorized probe and motorized Y-axis, provides fully automated measurement. MFU 100 is driven by MarWin form evaluation software, which includes basic, teach-in, and text-editor modes.
---
Original Press Release:

Mahr Federal Introduces MarForm(TM) MFU 100 Form Measuring Machine


-- Delivers lab quality 3D and form measurements to the shop floor
-- Automated measurement and low uncertainty facilitate precision results

PROVIDENCE, RI -- Mahr Federal has introduced a new form measuring system, the MarForm(TM) MFU 100, designed to take reference quality 3D and form measurements onto the shop floor. Extensively field-tested with Bosch for measuring fuel injection components, the system delivers highly accurate and cost-efficient measurements of both form and position within a measuring volume of 1 liter.

"This new MarForm MFU 100 really takes form measurement capability to a new level," said Pat Nugent, Vice President, Metrology Systems, at Mahr Federal. "With its small measuring volume and ability to generate higher quality angle measurements, we can measure things like straightness on sealing seat surfaces with a much lower degree of uncertainty than ever before."

In addition to traditional form and position measurements such as cylindricity, concentricity, and parallelism, the MFU 100 also accurately measures diameter and angle on parts such as sealing cones, and a wide range of other features.

The MarForm MFU 100 incorporates a temperature controlled enclosure so a wide range of form measurements can be taken right on the shop floor. A motorized centering tilt table, in conjunction with a T7W motorized probe and motorized Y?axis, provides fully automated measurement, facilitating operation by shop floor personnel. All axes are combined to provide minimum measuring uncertainty. For example, the horizontal X-axis passes through the workpiece center, allowing "true parallelism," free from other measurement influences.

The new MarWin form evaluation software package drives the MFU 100, and will provide a new platform for other Mahr Federal products in the future. MarWin allows control of the unit in three modes: a basic mode for simple piece part measurements; a teach-in mode, where operators can learn and do; and a text editor mode which can be used to create specific part programs. The software utilizes large, user-friendly icons and easy-to-follow navigation to provide a range of services, including clear logging and electronic documentation, as well as compatibility with corporate networks.

Mahr Federal Inc., a member of the Mahr Group, is known worldwide for its expertise in providing dimensional measurement solutions. The ISO 9001:2000-certified company manufactures and markets a wide variety of dimensional metrology products, and is headquartered in Providence, RI.

For additional information, contact:
Marketing
Mahr Federal Inc.
1144 Eddy Street
Providence, RI 02905 USA
Tel: 800-333-4243 or 401-784-3100
Fax: 401-784-3246
Email: information@mahr.com
Web site: www.mahr.com

More from Services