FORM E 350 Die Sinker comes with four-position linear tool changer.
Press Release Summary: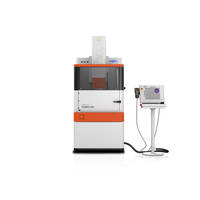 FORM E 350 Die Sinker can handle workpieces up to 800 x 500 x 265 mm and offers X/Y/Z travel of 350 x 250 x 250 mm. Unit is embedded with AC FORM human machine interface and provides interactive graphical assistance, descriptions of machining targets. Product features programmable dielectric management system and comes with a capacity of 270-liter. FORM E 350 is equipped with intelligent speed power generator and can be used with system 3R WorkPartner 1+ robot.
---
Original Press Release:
New GF Machining Solutions Die Sinker is Market's Smallest
GF Machining Solutions' new compact FORM E 350 machine is an ideal die sinking EDM solution for small shops. Even with the smallest footprint on the market, the machine still boasts several design and performance features that enhance a shop's competitive advantage.
A sturdy C-axis construction, cross table and cast iron frame offer high stability and force reduction, which helps maintain a precise spark gap between the part and the electrode. Regardless of part weight or dielectric volume, the machine delivers consistent accuracy. Integrated glass scales preserve long-term, repeatability and eliminate the need for recalibration as well as any errors found in traditional screw systems due to backlash and wear.
The latest-generation Intelligent Speed Power Generator (ISPG) on the FORM E 350 excels at superior surface finishes and precision applications in any conductive material. It overcomes common process challenges for copper electrodes, including electrode wear induced by electrical discharge. ISPG improves machining speeds by 40 percent and reduces corner wear by 50 percent.
Designed for high efficiency on the shop floor, the machine features a programmable dielectric management system with a 270-liter capacity integrated inside the machine cabinet. This system fills and empties the work tank without human intervention to keep the machine in production and is easy to access for routine maintenance.
The machine console comes equipped with the user-friendly AC FORM HMI (human machine interface) that is based on a standard Windows® platform and offers interactive graphical assistance so that all operations, such as measurement and machining cycles, are illustrated by graphics/icons for fast operator understanding and ease of use. It provides simple descriptions of machining targets, automatic selection of optimal technology and dynamic parameters adaption.
With an X/Y/Z travel of 17.8" x 9.8" x 9.8" (350 x 250 x 250 mm), the FORM E 350 handles workpieces up to 31.5" x 19.7" x 10.4" (800 x 500 x 265 mm.) It also has a four-position linear tool changer.
The FORM E 350 is automation ready and can easily be paired with the System 3R WorkPartner 1+ robot to implement unattended night and weekend operation.
About GF Machining Solutions
GF Machining Solutions is the world's leading provider of machines, diverse technical solutions and services not only to the tool and mold making industry but also to manufacturers of precision components. The products range from electrical discharge machines, high-speed and high-performance milling machines - including clamping and palletization systems, 3D laser surface texturing machines and spindles - to solutions for tooling and automation, services, spare parts, expendable parts and consumables. GF Machining Solutions is a globally acting Division of the Georg Fischer Group (Switzerland) and maintains a presence on 50 sites worldwide within its own organization. Its 3,102 employees generated sales of CHF 916 million in 2016. More information can be found at www.gfms.com.
More from Printing & Duplicating Equipment