Forklift Truck reaches forward with telescopic boom.
Press Release Summary: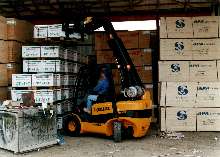 Pneumatic-tire 6,000 lb capacity Teletruk can reach over and lift 3,500 lb loads from the other side of a truck, trailer, or rail car, saving time and space with one side loading/unloading. Telescopic boom switches amongst attachments via quick-disconnect auxiliary hydraulics and carriage with 111° of tilt. Truck incorporates diesel or LPG power plant, coupled to hydrostatic drive system with TCR, and is available in full time 4-wheel drive model.
---
Original Press Release:
Sellick Offers New Telescopic Forklift

A new concept in material handling is now available exclusively from selected Sellick dealers throughout North America.

The Teletruk is essentially a 6000 lb. capacity industrial pneumatic tire forklift truck that incorporates telescopic boom technology instead of a vertical mast design. The advantage this provides is forward reach. The Teletruk is capable of reaching over and lifting a 3500 lb. load from the other side of a truck, trailer, or rail car, saving both time and space required with one side loading/unloading. The telescopic boom design also provides the versatility of quickly switching from one attachment to another through quick disconnect auxiliary hydraulics, and a carriage with 111 degrees of tilt.

A diesel or LPG power plant is coupled to a fully hydrostatic drive system with TCR, (torque converter response), which provides the operator with the feel and control of conventional torque converter equipped machines. A simple flick of a switch, an operator engages "diff-lock" when ground conditions or weather hinders forklift performance. For yards and sites where more traction is needed, the Teletruk is also available in a full time four wheel drive model.

Manufactured in the U.K. by JCB, the Teletruk has wide spread success throughout Europe in building supply yards, recycling, road and rail transportation, agriculture, landscape nurseries, and manufacturing.

Howard Sellick, President, "It's new, it's different, and can do tasks that standard industrial forklifts cannot do. Our customers with special materials handling requirements can now have those needs met. We are excited to have the JCB Teletruk as part of the complete line of Sellick rough terrain and truck mounted forklifts."
More from Architectural & Civil Engineering Products