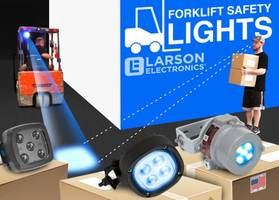 If you work around forklifts you know they can be dangerous carrying heavy loads with limited visibility is not an easy job. Accidents or property destruction can occur if they are not equipped with effective safety systems.
Larson Electronics offers a variety of forklift safety strobe lights, as well as spotlights and floodlights for supplemental lighting in dim work areas. However, our coveted blue safety light is the most valuable feature a forklift can have.
Blue forklift lights illuminate in front of the forklift like most, allowing operators to see where they are going; but more importantly, they simultaneously illuminate behind the vehicle. This helps get the attention of pedestrians who may be looking down at their phone or clipboard, unaware of potential danger ahead.
Not only do blue forklift lights enhance workplace safety for drivers and pedestrians, they get rid of the annoying day-long flashing lights and alert systems, common of other safety equipment.
We offer blue lights in explosion-proof and industrial versions. Check out these blue lights and our other safety forklift lights, below.
View Forklift Safety Lights: http://www.larsonelectronics.com/c-826-forklift-lights.aspx?utm_source=icontact&utm_medium=email&utm_campaign=August-17-Forklift-lights&utm_term=cta-button&utm_content=forklift-lights-category
Explosion Proof Lighting
Power Distribution
Light Towers
String Lights
LED Lights
Explosion Proof Cameras
For more information about our industrial lighting fixtures, please visit the Larson Electronics website: http://www.larsonelectronics.com or call 800-297-4352.
Larson Electronics
9419 E US HWY 175
Kemp, TX 75143
More from Electrical Equipment & Systems