Forklift Mounted Vacuum Lifters Provide Rotation and Tilt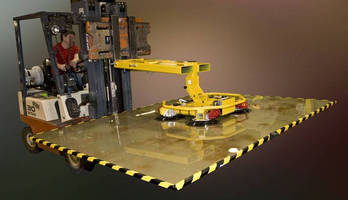 Wood's Powr-Grip's® Manual Rotator / Tilters deliver manual 360° rotation and 90° tilt for quick and efficient handling of insulated panels and other cladding materials. Cord-free, DC power allows operation of these below-the-hook vacuum lifters from forklifts, cranes or floor hoists, whether in the shop or on the job site.

Movable vacuum pads and extension arms create three unique configurations for handling materials of nearly any size. Manual Rotator / Tilters may be hung from a forklift mounted boom or equipped with an optional Forklift Adapter, which rigidly attaches the lifter directly to the forks. In either case, these versatile vacuum lifters speed the production, transfer and installation of nonporous material.

To obtain more information on Wood's Powr-Grip products or to locate a distributor in your area, visit us at www.powrgrip.com or call one of our Technical Sales Representatives at 800-548-7341.


More from Software