Foremost Machine Builders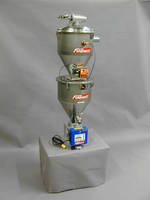 Foremost Machine Builders Inc. of Fairfield NJ will be exibiting at the 2012 NPE show in Orlando Florida. Our booth number is 3263. To showcase our theme, One Source Does It All, Foremost will have four machinery displays in the booth.

Foremost will display its model AT-4540-VII-ATVL gravimetric blender. This blender is a floor mounted four component unit mounted on a distribution box, and will be equipped with vacuum chambers on each of the components. Highlighted on this display will be FDP-VII-ATVL control package which can control up to six blending components, two vacuum pumps and eight vacuum loading stations. This control package incorporates Foremosts passive plug and play disconnect system.

Also on display will be a VF series vacuum loader package. Our VF series loaders incorporate a centrifugal pump driven by a TEFC motor, with an exhaust silencer and a triple stage protection filter. Shown for the first time is the Format VI-4 PLC control panel which can control one pump and four loading stations.

Foremost will also have a metal separator display at this year's show. This display will showcase our model SEP-PA-DP-3 throat mounted metal detector. This unit is ideal for molders and will be exhibited mounted under a machine hopper with a vacuum chamber mounted on top of it. In addition to showing the metal separator, this display will also highlight our IFM flat media distributed I/O system. We will also have an interactive SEP-GA Guardian series metal separator running on this display.

We will be showcasing our grinder line as well. This year we will bring our model MS-1008 microsonic besides the press granulator which is ideal for small parts, sprues and runners.

We will have both factory and field sales personnel in the booth to assist show attendees. For more information contact Drew Schmid at (973) 227-0700 x 124 or dschmid@foremostmachine.com.

Related