Ford Specifies Bilsing Carbon Fiber as Approved Standard for Lift Assist Systems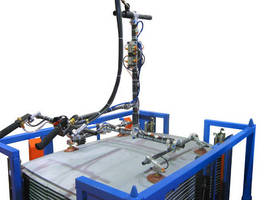 Sterling Heights, MI - Bilsing Automation has announced that Ford Motor Company has specified Bilsing Automation as an approved supplier of carbon fiber (Cf) components for use by Ford lift assist system suppliers. Use of Bilsing's Carbon fiber (Cf) and complementary components in its lift assists enables Ford Motor Company suppliers to provide lighter assemblies, improved productivity, and greater system modularity - all at lower overall cost.

With the lighter weight of the carbon fiber the entire system including overhead balancers and rails can be much smaller as weight capacity requirements are significantly less. This can offer a hefty reduction in overall system investment - up to 50% in some cases as compared to aluminum and steel lift components. Plus, Bilsing Cf components offer incredible durability - up to 40% more strength than other carbon fiber providers due the unique axial laying technique and high modulus of its Cf product materials.

Ease of use, rapid assembly time and ultra-flexibility is also made possible through the modularity of Bilsing Cf structures and their accompanying lift-assist-specific components. Adjustments can be made using of a set of Allen wrenches, helping to eliminate any imbalance issues on the spot.

Bilsing Automation is a global leader in the development and manufacturing of modular tooling systems for the pressroom, body shop and plastic molding applications in the automotive, food, packaging and glass industries. The company is focused on providing optimum product performance that results in cost reductions, supporting the customer through planning, design, engineering, assembly and commissioning. Bilsing Automation also offers 3D digital simulation and on-site training as part of its service offerings.


More from Communication Systems & Equipment