Force/Torque Sensor System is network-ready.
Press Release Summary: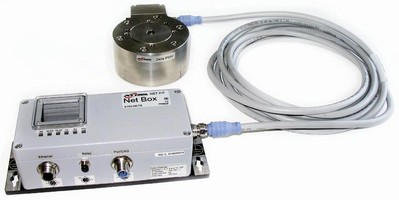 Able to measure 6 components of force and torque, temperature-compensated Net F/T Sensor System integrates EtherNet/IP(TM) and CAN bus communication interfaces as well as support for operation via PoE or 11-24 Vdc external power supply. Multiple transducer calibrations can be permanently stored for user selection, and LAN-ready unit is configurable via Web interface and offers programmable threshold. Output rates reach 7,000 Hz for 6 axes of measurement over Ethernet.
---
Original Press Release:

Networkable Force/Torque Sensor System Introduced by ATI Industrial Automation



ATI Industrial Automation, Apex, N.C., recently introduced the Network Force/Torque (Net F/T) Sensor System that measures six components of force and torque (Fx, Fy, Fz, Tx, Ty, Tz), provides an EtherNet/IP(TM) and CAN bus communication interface, and is compatible with standard Ethernet. The Net F/T is a fully ODVA-compliant Ethernet/IP interface and is powered by either Power over Ethernet (PoE) or by an external power supply (11VDC to 24VDC). The Net F/T's interface (Net Box) is sealed to IP65 (water splash-proof), and its transducer and cable can be sealed to IP68 (submersible in fresh water to 10 meters). Multiple transducer calibrations can be permanently stored in the system for user selection. The Net F/T system is available with all of ATI's Force/Torque transducer models allowing end-users to optimize their robotic applications.

The Net F/T system provides a variety of advantages over conventional systems, including:
o Multiple Interfaces: Ethernet, EtherNet/IP and CAN bus, to support a wide range of automation and research applications.
o LAN Connectivity: The Net F/T is easily connected to your Local Area Network (LAN) allowing for operation and monitoring anywhere the network is accessible.
o High-speed output: Output rates up to 7000 Hz for six axes of measurement over Ethernet (using UDP).
o Web-based Configuration and Demo: The Net F/T is configurable via a web interface, allowing the user to view and change system settings using a web browser. An easily accessible Java(TM) demonstration application provides a graphical view of six-axis measurements in real time.

o Programmable Thresholding: User-programmable threshold allow monitoring of force and torque conditions via a relay output or status bits to allow immediate action in case of critical process conditions.
o Built-in Status Indicators: LEDs in the Net Box alert the user to connection and load saturation status.
o Overload Protection: The F/T transducer is extremely rugged and durable, its factor of safety can be as high as 4080%, depending on model and calibration.
o Tool Transformations: Tool transformations can be used to translate and rotate the F/T point of origin to make measurements relative to the work at hand.
o Temperature Compensation: Each F/T transducer features hardware temperature compensation to stabilize its sensitivity over temperature. This compensation method optimizes the transducer's accuracy over a range approximately ±25°C from room temperature.
o High Signal-to-Noise Ratio: Silicon strain gages provide a signal 75 times stronger than conventional foil gages, reducing the need for noise-increasing gain.

ATI Industrial Automation is a world-leading engineering-based developer of robotic peripheral equipment, including Automatic Tool Changers, Multi-axis Force/Torque Sensing Systems, Robotic Deburring Tools, Robotic Collision Sensors and Compliance Devices. They provide customers with high-quality robotic peripheral devices, tooling and sensors that enhance their profitability by increasing effectiveness, flexibility and safety of automation applications.

For more information about the Net F/T and other ATI products, contact ATI Industrial Automation, 1031 Goodworth Drive, Apex, NC 27539, phone 919-772-0115, fax 919-772-8259, www.ati-ia.com.

More from Robotics