Force Displacement Tester features Voice Coil Technology,.
Press Release Summary: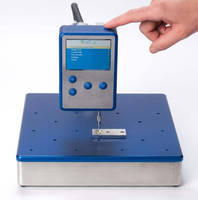 Measuring 11 x 11 x 10.2 in., and out of box weight of 14 lb, TruTac force displacement test station tests repeatable force on various types of switches and switch assemblies. Conforming to ASTM test standard F2592-07, it comes with resistance test capabilities, web-based user interface software, 0.050 in. actuator tip, and power supply and cables. Built-in LCD panel displays test and measurement readings, while detailed results can be accessed through web based graphic interface program.
---
Original Press Release:

New Force Displacement Test System Features Voice Coil Technology



WINDSOR, CO, MAY 19, 2009 - Snaptron, Inc, a manufacturer of tactile domes and related products, has announced the launch of a new product - the TruTac Force Displacement Test Station. The TruTac was designed for accurate, repeatable force tests on various types of switches and switch assemblies. The TruTac is used to test metal domes, polydomes, membrane switches, and most other switches, depending on tester configuration.

The TruTac is the first test unit to conform to new ASTM test standard F2592-07, and generates test reports based on this standard. Fields for the ASTM standards are Fmax, Fmin, Height, Travel, Resistance, TfMax, TfMin, Fc/Fb, Tc/Tb, Tease Force, Tease Travel, Tactile Ratio, and Tactile Slope. Users can also apply Pass/Fail limits to all ASTM standards via an upper spec limit (USL) and lower spec limit (LSL).

The TruTac features new proprietary technology whereas there is no load cell to damage. It is a stand alone unit that tests and displays measurement readings via its built in LCD panel. In addition to stand alone results, more detailed results can be accessed through a web based graphic interface program with remote access and network compatibility. Results are composed using over 80,000 data test points over an .65" interval. Positional resolution of .0001 provides detailed readings.

The TruTac Test Station comes standard with resistance test capabilities, web based user interface software, a .050" actuator tip, and power supply and cables. Unit dimensions are 11"W x 11"L x 10.2"H with an out of box weight of 14lbs.

For additional information or specifications regarding the TruTac test station, please contact

Jon Mullett at

970.686.5682 or

jmullett@snaptron.com

More from Sensors, Monitors & Transducers