Tool Boxes, Chests and Cabinets
For Almost 45 Years ANCA has been on the Journey to Help Our Customers Move Towards a Smart Factory Solution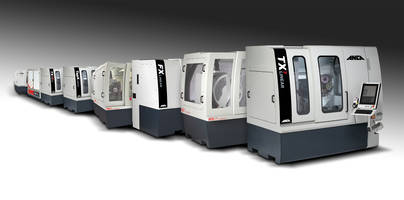 Visit ANCA at EASTEC at booth 1244 to learn more about how our world-first technology developments have helped reduce production costs by 50% through lights out manufacturing
April 2019: From 3D simulation software to LaserPlus, an in-process measurement system, to RoboTeach, which makes robotic loaders accessible and easy to program – ANCA has been building a tool box of technology for our customers to reap the benefits of automation and Industry 4.0.
Visit us at Booth 1244 and learn more about how ANCA is enabling manufacturers to run 'lights out' and download our practical guide on how to build a Factory of the Future. 
Thomson Mathew, Software Product Manager says: "Get a live demo of the soon to be released ToolRoom RN34 software and learn how it specializes in complex cutting tool geometries for the aerospace, die mould and power generation industry."
ANCA's latest ToolRoom RN 34 software release focuses on manufacturing the most complex tool geometries with a perfect balance. Visitors can get a demo of the endmill cycles for ballnose and corner radius, tool balancing and next generation fluting cycles.
Also at the show will be ANCA's Management Suite, which either on the premise or in the cloud is a game changer for the CNC grinding industry. It provides customers the technology to monitor the performance of their machines no matter where they are in the world. The new software also enables companies to run smart factories by providing live production information to make data-based decisions on operational improvements. Also launching soon is a new USB WiFi dongle that will add seamless connectivity to machine users.

Email us at marketing@anca.com to book a free demo at EASTEC 2019 to see ANCA's latest ToolRoom version or our Management Suite software.
Ideal for light manufacturing, regrinding and full production - see the FX7 Linear at EASTEC
For customers that require increased flexibility or more spindle power, or increased automation capacity that a robot can provide, the FX7 Linear offers these. The FX7 Linear offers a wide range of options for those looking to increase productivity and accuracy. Available as an option is the AR300 robot loader to increase efficiency by automating repetitive manual tasks.
Features include:
Linear motors on X and Y axes
AM5000 control system for faster processing
HSK40 taper provides increased rigidity and accuracy for improved tool surface finish results
Embrace automation with ANCA's AR300 loader
With over 70% of ANCA customers buying machines with robotic functionality, it's fair to say the age of the robots has come. Far from a nice-to-have add on, many CNC machines now come with operator panels that provide in-built control over both the grinding software and the robotics function, opening the door to greater automation efficiencies.
At ANCA we provide a complete solution to our customers, designing and manufacturing almost all our technology in-house. As part of this we developed our own low-cost solution for tool loading.
The 3-axes ANCA robot has a capacity of 380 tools and accommodates tool sizes up to Ø20mm (Ø3/4") x 150mm (6") long. The AR300 loader is contained within the compact FX Linear machine footprint, so there is no need for extra floorspace. In addition, there is no need to change gripper fingers between batches, which further maximizes productivity.
Utilizing the latest control technology from ANCA Motion, the AR300 loader is an excellent value-for-money auto tool loading solution for the FX5 Linear and FX7 Linear two-wheel changer machines. The loader provides quick tool loading, as the tool is passed directly from the pallet to the collet in a single gripping action.
For further information, please contact:
Johanna Boland
PR and Communications Manager, ANCA
M: +61 407799779
ANCA is a market leading manufacturer of CNC grinding machines. It was founded in 1974 in Melbourne, Australia where the company still has its global headquarters. ANCA has offices in the UK, Germany, China, Thailand, India, Japan, Brazil and the USA as well as a comprehensive network of representatives and agents worldwide.
ANCA CNC grinders are used for manufacturing precision cutting tools and components across a diverse range of competitive industries including cutting tool manufacture, automotive, aerospace, electronics and medical.
PR/Ad Agency Contact:
Tim Daro, Bernard & Company
847-934-4500
tdaro@bernardandcompany.com
More from Machinery & Machining Tools