Food Packaging Bowls are made from food-grade recycled PET.
Press Release Summary: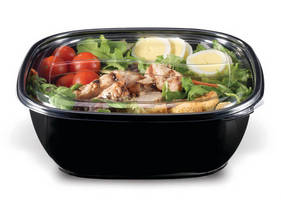 Fresh 'n Clear(TM) bowls are offered in sizes ranging from 8-64 oz, including 32 oz shallow bowl. Providing horizontal storage, products are manufactured with EcoStar(TM) food-grade recycled PET containing minimum of 35% recycled content. Tight-fitting and leak-resistant lid styles include flat lid with embossed design, flat lid that accommodates self-adhesive labels, and dome style lid which adds storage space. Bowls and lids are available in clear or black.
---
Original Press Release:

Placon Announces New Additions to Its Fresh 'N Clear(TM)



Placon Corporation of Madison, WI has introduced several new bowl sizes and lid options in its Fresh 'n Clear(TM) line of products for the foodservice market.

For attractive and stackable displays of deli foods, salads, fruits and similar items, the company has designed a new 32-ounce shallow bowl. With a large top surface area, the new design highlights its contents in an attractive way as it focuses on horizontal (rather than vertical) storage. Available in clear or black, Fresh'n Clear(TM) bowls now come in eight sizes ranging from eight to 64 ounces.

Two new lid styles are also being unveiled. The first style is a simple unadorned flat lid, designed for easy accommodation of self-adhesive labels. The second new lid has been designed in a dome style, effectively adding more available storage space to the bowl below.

Previously, the company offered just one lid style, a flat lid with an embossed design. This lid is still available, so the Fresh 'n Clear(TM) line now features a total of three different lid styles. All are tight-fitting and leak-resistant, and can be embossed to provide name or brand recognition.

All Fresh 'n Clear(TM) Scround bowls and lids come in three sizes-small, medium, and large-and work interchangeably with their same-size counterparts. When packed and closed, the products offer the convenience of nestable stacking while creating attractive and secure displays.

Built with Placon's EcoStar(TM) material, the entire Fresh 'n Clear(TM) line is constructed of EcoStar(TM) food-grade recycled PET containing a minimum of 35% recycled content.

For Fresh 'n Clear(TM) samples, sizing and ordering information, call Placon at 800-541-1535, or visit www.placon.com.

Headquartered in Madison, Wisconsin, with an additional manufacturing facility in Suzhou, China, Placon has been a leading manufacturer of thermoformed packaging for over 40 years. Serving the medical, retail and food markets throughout North America, the privately owned company offers custom-designed packaging, stock products, and raw materials. According to Plastics News, Placon ranks among the top 20 thermoformers in the U.S.

More from Machinery & Machining Tools