Food-Grade rPET suits ambient, cold, and frozen applications.
Press Release Summary: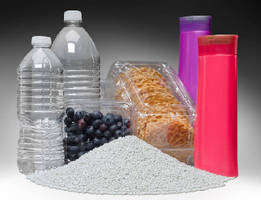 Consisting of food-grade, melt-extruded recycled PET pellet, LNO™ w Resin targets both blow molded and thermoformed applications for water, cold-filled beverages, deli trays, and fruit tubs which are not subjected to heat, either in filling process or during consumer usage. Product can be used at levels up to 100%, or blended with virgin PET. Resin is additionally suitable for personal care packaging applications.
---
Original Press Release:

Phoenix Technologies Introduces LNO(TM) w resin; New Food-grade rPET Suitable for Ambient/cold/frozen Applications



Bowling Green, Ohio —Phoenix Technologies, a long-time producer of recycled polyethylene terephthalate (rPET), is announcing the launch of LNO™ w resin, a new food-grade, melt-extruded rPET pellet with good color and cost attributes.



The new rPET product targets both blow molded and thermoformed applications for water, cold-filled beverages, deli trays, fruit tubs, etc.  LNO™ w resin is ideal for packages which aren't subjected to heat (either in the filling process or during consumer usage) or need the rigorous performance attributes required by certain food applications. It can be used at levels up to 100 percent, or blended with virgin PET.



Additionally, the resin is ideally suited for personal care packaging applications which can benefit from food-grade rPET attributes which align with corporate philosophy and marketing objectives.



LNO™ w resin complies with the Food & Drug Administration's letter of no objection issued to Phoenix Technologies for the following conditions of use:

E.  Room temperature filled and stored (no thermal treatment in the container).

F.  Refrigerated storage (no thermal treatment in the container).

G. Frozen storage (no thermal treatment in the container).



"As you expand your conditions of use, the decontamination process gets more rigorous.  These cold-filled, frozen or ambient-use applications do not involve a thermal process.  That means they can use a resin that has been produced under milder processing conditions.  LNO™ w resin combines ideal properties with desirable cost attributes for these applications," said Lori Carson, director of commercial operations, Phoenix Technologies.



LNO™ w is said to be 5- to 8-percent less expensive than Phoenix's rPET grades used for containers that are subjected to thermal situations. (Pricing is dependent on fluctuations in raw material costs.)



The new grade is the third product in Phoenix's LNO rPET line.  LNO™ w resin joins the    company's food grade LNO™ p and LNO™ c resin, plus the non-food grade NLP™ resin.



The LNO™ process relies on Phoenix's patented "small particle size" technology. The particle size is directly related to decontamination efficiencies usually resulting in faster output and significant energy savings.



About Phoenix Technologies

Phoenix Technologies is a global leader in recycled rPET manufacturing.  The company produces clean, consistent and high-grade rPET resin pellets from post consumer recycled plastic flake shipped from all over the world. As the foremost manufacturer of rPET, Phoenix sets standards for quality, technology, service and value. Phoenix Technologies is a member of Plastic Technologies, Inc., Holland, OH family of companies.  For more information: www.phoenixtechnologies.net.



Please forward sales inquiries to:

Lori Carson

Sales and Marketing Manager

Phoenix Technologies, Inc.  

1098 Fairview Ave.

Bowling Green, OH 43402   

Phone: (419) 353-7738   

Email: l.carson@phoenixtechnologies.net