Food Grade Anti-Seize Compound has wide temperature range.
Press Release Summary: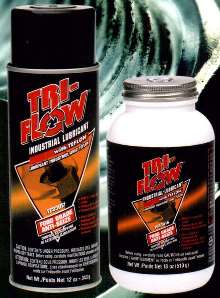 Able to withstand temperatures from -65 to +1,800°F, Tri-Flow® prevents seizing, galling, friction, and wear on stainless steel threaded parts and other metal-to-metal surfaces. USDA H1, NSF registered compound is formulated with Teflon® and other lubricating solids, blended into a non-melting grease carrier. Available in brush-top jars and aerosol cans, chemical- and stain-resistant product is suited for use on process equipment ranging from freezers to ovens.
---
Original Press Release:
New Food Grade Anti-Seize Compound

Has A Temperature Range of -65°F to 1800°F;

Protects Threaded Connectors, Hinges, Chains, And Other Metal-To-Metal Surfaces In Freezers, Ovens & Process Equipment

A new, high temperature anti-seize compound has just been announced by Diversified Brands, A Division Of The Sherwin-Williams Company.

Tri-Flow® Food Grade Anti-Seize prevents seizing, galling, friction and wear on stainless steel threaded parts and other metal-to-metal surfaces. The premium anti-seize has an extraordinarily wide temperature range of -65°F to 1800°F, appropriate for use on process equipment ranging from freezers to ovens.

The compound aids in the assembly, sealing, and disassembly of pipe joints, nuts and bolts, flange gaskets, and slip-fit, press-fit and keyed shafts.

Tri-Flow Anti-Seize is formulated with Teflon® and other lubricating solids, blended into a non-melting grease carrier. The USDA H1 rated, NSF registered compound is chemical and stain resistant.

Tri-Flow Anti-Seize is available in 9 and 18-oz. brush-top jars (NSF Registration No. 128182) or in 11-oz. aerosol cans (NSF Registration No. 129462).

For additional information, contact Diversified Brands, A Division of The Sherwin-Williams Company, Tel: 800-925-3434, Fax: 614-294-2956, www.diversifiedbrands.com
Related