Food, Beverage and Packaging Companies Seek Next-Gen Drive Solutions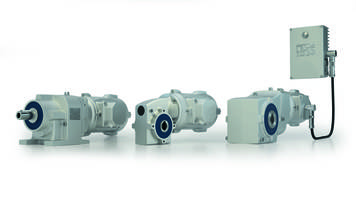 NORD demonstrates breakthrough stainless steel alternative at PACK EXPO
NORD's corrosion-resistant aluminum surface conversion system, NSD TUPH, is available for nearly all NORD product families. Shown (left to right): NORDBLOC.1 helical in-line, MINICASE™ single-stage worm, and 93.1-series two-stage helical-bevel gearboxes with TENV smooth-body motors, and a decentralized variable frequency drive.
In the beverage category alone, global soft drink, orange juice, cranberry drink and regional beer manufacturers have made the switch.
NORD Gear Corporation provides an alternative to stainless steel geared motors at a fraction of the price. NORD's molecular conversion of aluminum alloy provides drive equipment with all the protection food and beverage applications demand. The NSD TUPH™ surface conversion consists of an extremely corrosion resistant and strong base layer (seven times harder than standard aluminum alloy) that is sealed for corrosion protection and routine cleaning. This solution is ideal for harsh environments involving chemicals or wash-downs, and where sanitation and cleanliness are the highest priority. See NORD products with NSD TUPH at PACK EXPO Booth #9413, Oct. 14-17, 2018 at Chicago's McCormick Place.
Bob Pierce, NORD Market Specialist for the Food and Beverage Industry, said NSD TUPH is the best cost-saving technology to come into the food industry in years. He added, "NSD TUPH was specifically designed to withstand the rigors of the food and beverage industry and is proven in every food industry sub-segment." From poultry to meat, from bottling to vegetable processing, from dairy to snack food, NSD TUPH is a cost-saver. "Unlike a painted cast iron drive, the aluminum surface will never chip or rust, and it provides the superior wash-down advantages of stainless steel – without the stainless steel price tag," explained Pierce.
NSD TUPH is a food grade solution that is U.S. Food & Drug Administration compliant, and is a perfect fit where cost savings over stainless steel drives are desired. Pierce added, "The longevity of NORD's NSD TUPH is continually proven over its stainless steel counterpart, and it offers a cost savings of up to 50 percent over stainless steel."
NORD's NSD TUPH surface conversion system is ideal for many food and beverage industry applications, where drive technology is exposed to extreme ambient conditions and highly corrosive environments. A salt corrosion test illustrates only residual salt remains on NSD TUPH vs. untreated and corroded aluminum torque arms.
Available in five NORD product families (two-stage helical bevel, helical in-line, worm gear boxes, motors, and variable frequency drives) and in various configurations, the NSD TUPH surface conversion system provides all the protection any harsh application demands without compromising quality. With stainless steel hardware, shafts, motors and food grade lubricants as options, NORD offers a comprehensive drive solution for food manufacturing, packaging and processing industries, whether your application is on a conveyor, pump, mixer, elevator or processing equipment.
Click here for a time-lapse video of aluminum torque arms treated with NSD TUPH in a corrosion test. Visit NORD at PACK EXPO Booth #9413 to see a demonstration of the NSD TUPH technology. For more information, visit NORD.com, call (888) 314-6673 or contact a NORD distributor at http://www.NORD.com/Locator.
Company background
With more than 3,600 employees, NORD DRIVESYSTEMS has been developing, producing and selling drive technology for more than 50 years, and is one of the global leaders of full-service providers in the industry. In addition to standard drives, NORD delivers application-specific concepts and solutions for special requirements such as energy-saving drives or explosion-protected systems. In the 2017 financial year, annual sales amounted to $730 million. NORD has subsidiaries and sales partners in 89 countries worldwide. The extensive sales and service network guarantees optimal availability, enabling short delivery times and customer-oriented service. NORD produces a very diverse range of drives for torques from 88.5 to 2,212,000 lb-in (10 to 250 kNm), provides electric motors in the power range of .16 to 1,341 HP (0.12 kW to 1,000 kW), and manufactures frequency inverters with the required power electronics of up to 200 HP (160 kW). Inverter solutions are available for conventional control cabinet installations as well as for decentralized, fully-integrated drive units.
NORD Gear Corp – United States
Member of the NORD DRIVESYSTEMS Group
800 NORD Drive
PO Box 367
Waunakee, WI 53597
Phone: (888) 314-6673
Fax: (800) 373-6673
info.us@nord.com
NORD Gear | PO Box 367 | 800 Nord Dr. | Waunakee, WI 53597
Thomas McLaughlin
Phone: 608-849-7300 x 2957
Fax: -
Thomas.McLaughlin@nord.com
Getriebebau NORD GmbH & Co. KG
Getriebebau-Nord-Straße 1
22941 Bargteheide/Hamburg
Germany
Jörg NIERMANN
Phone: +49 45 32 / 2 89 -0
Fax: +49 45 32 / 2 89 -22 53
Joerg.Niermann@nord.com
More from Software