Folding Water Tank enables 1-person deployment and tear-down.
Press Release Summary: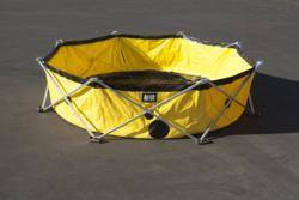 Designed to set up on virtually any terrain while remaining level, Yellow Jacket can be configured with multiple tanks attached together, and does not require tools or pins. Tank can be made from NSF-61 material for potable water, urethanes for fuels and chemicals, as well as PVC for greywater or non-potable water applications. In addition to firefighting, lightweight tank is suitable for agricultural applications, construction site sediment ponds, and remote helicopter water operations.
---
Original Press Release:

New Folding Tank for Firefighting Cuts Set Up Time with One Person Deployment



It takes just one firefighter to unfold the Yellow Jacket tank from AIRE Industrial. Lighter and leaner, this mobile water tank saves set up time, which in a crisis, is a good thing.



Yellow Jacket Folding Tank

Finally, a one person set up folding tank.



Meridian, ID -- When lives are on the line, time is not the firefighter's friend. Anything that can shave minutes or seconds off during an emergency can be the difference between a life saved or lost. Traditional unfolding tanks used during the staging of an emergency are a two-person deployment job, costing labor and time. The new Yellow Jacket tank developed, manufactured and sold by AIRE Industrial solves the dual team need for setting up a water tank in a staging area.



By cutting down the deployment to just one person, the team can start filling the tanks sooner, sending others to do more mission critical tasks. Not only is the Yellow Jacket faster in the field, it weighs less than the competition and does not require any tools or pins to set up as well. The lightness of the tank makes it easier to carry distances and puts less stress on the firefighters already burdened by an equipment load. The less heavy tank belies its strength. The tank was invented by the team from AIRE Industrial in collaboration with the engineering department at Boise State University in addition to input from firefighters who deploy tanks in the field.



The Yellow Jacket sets up on virtually any terrain while remaining level, and can be configured with multiple tanks attached together. This allows filling all the tanks simultaneously, another time saving feature. The footprint of the tank is less than a traffic lane, allowing drivers to navigate by the mobile water tank if staging in a roadway or other compact areas. Another benefit of the Yellow Jacket mobile water tank is the tear down, this is a single person operation as well. Once empty, turn up on its side and push down. That's all there is to it, easy up and easy down.



Though the tanks initial design was for the firefighting industry, many industries can benefit from the folding water tank. Agricultural applications can also benefit from the water storage unit, the footprint is so small it can be thrown in the back of a pickup truck and deployed by a singular hand. The Yellow Jacket is also a good fit for construction site sediment ponds, as well as remote helicopter water operations. The water tank has many fabric options; it can be made with NSF- 61 material for potable water, urethanes for fuels and chemicals, as well as PVC for greywater or non-potable water applications.



The Yellow Jacket Folding Tank will be premiering at the FDIC Convention taking place April 22- 27 in Indianapolis, In, held at the Indiana Convention Center, Lucas Oil Stadium.



For more information, contact AIRE Industrial at 2021 E Wilson Lane, Meridian, Idaho, by phone at 800-247-3846 or via the Web site at http://www.aireindustrial.net.



ABOUT AIRE Industrial

The founders of AIRE Industrial are outdoor enthusiasts, protectors of the environment, and take pride in using American sourced materials and keeping jobs local. AIRE Industrial offers a complete line of portable secondary containment berms, flexible storage tanks and bladders as well as spill kits and containment products. AIRE Industrial has offices in Idaho, Washington, North Dakota, and partners in Europe, Asia, North Africa, New Zealand, The Middle East and South America. AIRE Industrial is a division of AIRE Inc. AIRE Inc. is the largest inflatable boat manufacturer in the U.S. and is recognized around the world as the premier builder and innovator of water recreation crafts.



Dorian Lewis

Internet Marketing

AIRE Industrial

208-869-4490