Folding T-Handle Latches suit heavy load applications.
Press Release Summary: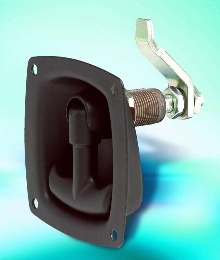 Vise-Action® Series N4 Compression Latches offer positive sealing for applications where shock or vibration can loosen conventional latches and where gaskets are used for environmental sealing or noise reduction. Turn of T-handle rotates latch's cam into position and pulls it snug with consistent compression. Adjustable cam options provide grip range from 0.51-4.0 in. Three out of 4 models feature flush-mount recessed steel cups to store T-handle.
---
Original Press Release:
Enhanced And Expanded Line of Folding T-Handle Latches Satisfies More Rugged Applications
Concordville, PA, June 20, 2005 Equipment designers faced with a demand for more durable and ergonomic latching solutions now have a broader range of choices with an enhanced line of folding T-handle style compression latches introduced by Southco. These Vise-Action® Series N4 compression latches offer positive sealing for heavy-load applications where shock or vibration can loosen conventional latches and where gaskets are used for environmental sealing or noise reduction. This expanded family of folding-handle latches provides durable performance for indoor and outdoor applications requiring fast and frequent user access for both medium- and heavy-duty applications. An ergonomically designed T-handle provides convenient grasp and easy operation, even with gloved hands, making it a functional choice for rugged construction and industrial environments. A turn of the T-handle rotates the latch's cam into position and pulls it snug with consistent compression. Adjustable cam options provide a wide grip range from 0.51" (12.9 mm) to 4.0" (101.7 mm) to accommodate panels and frames of varying dimensions. A special shock-resistant symmetrical cam is available as an option for enhanced vibration resistance, added protection against misalignment and increased durability. All models feature robust construction for applications with frequent vibration or sudden changes in load configuration. Added material around the hinge of the folding T-handle mechanism delivers improved strength, more robust performance, and greater cycle life (tested to 10,000 cycles). The addition of a stainless steel spring-loaded detent mechanism securely holds the T-handle in the raised or lowered position. A specially reinforced model includes steel housings for the latch mechanism to provide added strength in more demanding installations. Four primary models are available. Three of them feature stylish flush-mount, recessed steel cups to store the T-handle when it is folded into the lowered position. These include rear-mount options with integrated threaded studs, as well as a cost effective front-mount option with user-supplied mounting hardware. Each of the three flush-mount models is available with optional keylock security to restrict user access. An additional model without a recessed cup is available in a non-locking version only. Each model can be mounted vertically or horizontally, using symmetrical panel preparation. In addition, an improved powder coating treatment enhances finish quality, avoids blistering, and improves scratch and corrosion resistance for high-visibility applications. Uses for these latches include access panels, doors, engine covers, and tool compartments for off-highway equipment, railway rolling stock, industrial or emergency vehicles, construction equipment such as generators and air compressors, HVAC equipment, and industrial/process machinery. For more information, visit Southco's website at southco.com; e-mail their 24/7 customer service department at info@southco.com; call 610-459-4000; or fax to 610-459-4012. Southco is a leading global provider of engineered access solutions, including latches, locks, captive fasteners, hinges, handles, and other accessories for applications in the marine, networking, telecommunications, computer, automotive, aerospace, mass transit, off-highway/construction, RV/caravan, industrial machinery and HVAC industries. Southco is strongly focused on customized engineering solutions and global support for its key customers. The company aspires to be a virtual engineering center for its customers' engineered-access solutions and is committed to providing outstanding quality and overall satisfaction. Southco's promise to its customers is to connect, create and innovate to provide the best solution for every access engineering problem. SOUTHCO CONTACT: Dale Clouser 610-361-6551 dclouser@southco.com
More from Fluid & Gas Flow Equipment