Folding Glass Wall features weather-tight construction.
Press Release Summary: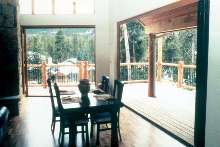 NanaWall(TM) has floor-to-ceiling glass panels that frame outdoors when closed, and glide and stack to side when opened. Suited for use in areas from bedrooms and dens to kitchens, product protects against outdoor conditions and has locking system that prevents intruders from entering. Wall utilizes overhead and floor tracks, as well as 2 sets of gaskets/weather-strips, for weather-tightness. Model SL72 is certified to standards for hurricane strength.
---
Original Press Release:

Open Your Home - Yet Keep it Weather-Tight


Revolutionary NanaWall Brings The Outdoors In And Keeps It Out, Securely, When The Weather Turns Bad

MILL VALLEY, Calif., November 1, 2004-Every home's opening to the outdoors-whether windows or doors-presents a potential vulnerability during the winter weather. Rain and wind can force its way in and drafts or poor insulation can take its toll on energy bills. Yet the desire to open up the home and embrace nature is universal, so how can you possibly have both large wall openings and reliable security against the elements? The answer is simple and unique: it's the revolutionary NanaWall(TM) folding glass wall, available exclusively from NANA WALL SYSTEMS.

The NanaWall(TM) resembles a wall of floor-to-ceiling glass panels, which frames the great outdoors when closed, and vanishes when opened. Its engineered panels glide and stack to the side when desired, blurring the line between the indoors and outdoors. This makes the NanaWall(TM) the design-element of choice for any room that can benefit from bright and airy panoramas, from bedrooms to dens to kitchens. Yet the NanaWall(TM) demonstrates its superior protection during harsh weather. Unlike other products on the market today, the NanaWall(TM) is independently tested for weather-tightness and the SL72 model is certified to withstand the punishing requirements of Miami/Dade County, Florida's rigorous standards for hurricane strength.

In weather-facing applications, the NanaWall(TM) utilizes both overhead and floor tracks, as well as two sets of gaskets/weather-strips, for superior weather-tightness. Installed by NANA WALL SYSTEMS' authorized professionals, the NanaWall(TM) SL50 conforms to the same standards as a non-operable high-rise curtain wall. Unlike their competitors, the NanaWall(TM) SL50 is certified to meet demanding NFRC standards and is tested to endure an incredible 18 pounds of water per square foot and five gallons of water per minute-all without leaking. The Nana Wall(TM) also features a locking system which simultaneously engages multiple points, preventing intruders from entering the home. Along with the unique weathertight and security features, the NanaWall(TM) SL50 has slim and modern-style frames, which create stunning vistas for the home. With a palette of over 200 colors, the design options for the Nana Wall(TM) SL50 are limited only by the imagination

For complete information about the NanaWall(TM) SL50, or any of the other revolutionary NanaWall(TM) vanishing glass wall products, call NANA WALL SYSTEMS at (888) 411-NANA (6262), or visit the award-winning Web site (including a vast photo gallery, case studies, and complete animations of the NanaWall(TM) in use) at www.nanawall.com.