Folder Inserters help optimize mailroom productivity.
Press Release Summary: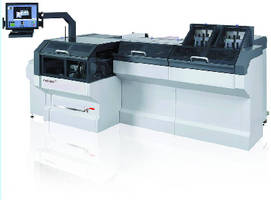 Featuring modular, upgradeable design, Models DS-140 and DS-1000 provide rapid changeover in less than 2 min, speeding transition between jobs with different settings. All system adjustments are PC-driven and fully automated. Interface offers access to production data and reports, including complete real-time status of running jobs. Detailed statistics and data logging facilities allow operator to verify that documents have been correctly processed and obtain audit trail reports.
---
Original Press Release:

Neopost's Advanced DS-140 and DS-1000 Folder Inserters for Increased Mailroom Productivity and Security



Provides Superior Speed and Increased Flexibility

Neopost, the worldwide provider of mailing and shipping solutions, introduces its new, DS-140 and DS-1000 high productivity folder inserters. Ideal for organizations processing a wide range of jobs with varying requirements, the DS-140 and DS-1000 maintain an extremely high practical input, throughput and output speed, while seamlessly switching from one job application to another. No matter what the job requires, the DS-140 and DS-1000 are essential tools to ensure the most number of mailing jobs is processed in the minimum amount of time.

Operational Efficiency Ensures Maximum Uptime

These new highly modular folder inserters target customers with applications requiring maximum productivity and flexibility. The DS-140 and DS-1000's high collation and constant document speed, combined with parallel inserts and document folding handling, ensure high productivity throughput rate regardless of the number of documents and complexity of the mailings being assembled. All system adjustments are PC driven and fully automated. Designed for rapid changeover in less than two minutes, the DS-140 and DS-1000 easily transition between jobs with very different settings minimizing unproductive downtime. In addition, the high capacity output conveyor provides for unattended operation and easy sorting and handling of the jobs.

The DS-140 and DS-1000 boast a highly interactive and user friendly PC user interface, minimizing training requirements while allowing for extensive application programming and control of all aspects of the system. The interface offers service providers easy access to comprehensive production data and reports, including a complete real-time status of running jobs. Detailed statistics and data logging facilities allow the operator to verify that every document has been correctly processed and obtain audit trail reports, providing proof of processing and integrity of each run.

Integrated Solutions for Accuracy and Savings

When integrated with Neopost Output Management Software the DS-140 and DS-1000 will bring your services to the next level. Using the latest technology for address cleansing, mailing formatting and document sorting, customers' mailings can be quickly enhanced to become more accurate and personalized. In addition, Output Management software will automate document printing processes while the OMR and Barcode automation will reduce your mailing production hard cost and labor costs.

Modularity for Greater Business Agility

The upgradeable design of the DS-140 and DS-1000 offers full investment security to ensure service providers can adapt and grow their configuration as their business needs evolve. Upgrades in the DS-140 and DS-1000 include insert modules and intelligent document integrity options as well as productive input and output options. The fully upgradeable design ensures that the DS-140 and DS-1000 can be extended to support new business needs as they evolve.

About Neopost

Neopost is the fastest-growing worldwide provider of mailing and shipping solutions. Neopost partners with its customers to help them achieve higher levels of efficiency, control and value in their mailing operation. Neopost's mailing and shipping solutions constantly evolve to bring the greatest business advantage to customers' critical mailing processes. Over its 80 year history, Neopost has consistently provided innovative mailing solutions, including the first electronic postage meter, the first folder/inserters with automated setting adjustments, and its flagship digital ink jet mailing systems. Neopost's innovative products and services bring simplicity and efficiency to the complete mailing process to make your business run more effectively. Neopost values your mail.

For more information, call 1-888-Neopost (636-7678) or visit Neopost at www.neopostinc.com

More from Cleaning Products & Equipment