FOG Transceiver integrates 3 axes in one package.
Press Release Summary: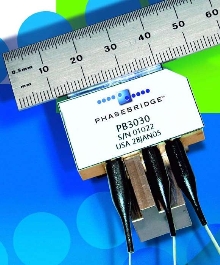 Triple-axis fiber optic gyroscope (FOG) transceiver, PB3030, integrates all 3 axes into one 0.8 x 1.4 x 0.3 in. package. Able to transmit more than 1 mW of output power with greater than 20 dB polarization extinction, unit has -40 to +85°C operating temperature range and offers greater than 30 nm of optical spectrum. Product meets extreme temperature, shock, and vibration specifications for aerospace and munitions guidance.
---
Original Press Release:

Phasebridge Introduces 3-Axis FOG Transceiver Prototype


March 9, 2005 - Pasadena, CA - Phasebridge, Inc., a specialist in advanced photonic integration technologies, devices, and system solutions has developed a 3-axis fiber optic gyroscope (FOG) transceiver. The PB3030 is the first FOG transceiver that integrates all three axes into one compact transceiver package. With dimensions of just 0.8 x 1.4 x 0.3 inches, the PB3030 transmits more than 1 mW of output power with greater than 20 dB polarization extinction. The PB3030 was developed to the specifications of the U.S. Navy under a contract through the Center for Commercialization of Advanced Technology (CCAT).

Ideal for the extreme temperature, shock and vibration specifications required for aerospace and munitions guidance, the advanced 3-axis FOG transceivers will enable precision inertial guidance in applications where size and cost are critical factors. The PB3030 offers greater than 30 nm of optical spectrum and an operating temperature range between -40 degrees to +85 degrees C.

According to Tom Byrne, Director of CCAT's Executive Board, "This is a breakthrough transceiver technology that will revolutionize the fiber optic gyro industry. Currently, transceivers for each of the three axes must be purchased separately. Now, Phasebridge has developed one convenient and cost-effective transceiver that combines all three axes using their proprietary hybrid package integration technique. This will offer cost and space savings and reduce time to market for FOG manufacturers." Competing technologies are either micro-electromechanical systems (MEMS)-based gyros or Global Positioning Systems (GPS). GPS has relatively slow response times and is susceptible to jamming, while MEMS-based gyros cannot simultaneously meet both the high reliability and the high precision that are required in the most demanding applications. Byrne added, "When size and precision are factors, the PB3030 offers an advanced integrated solution in an ultra-compact package."

Phasebridge designs and manufactures rugged and compact photonic hybrid chip-scale packaging and is a leading developer of optical devices and sub-systems for analog radio frequency (RF) signal processing and fiber transmission. The company offers FOG transceivers in single- and 3-axis versions. Both types of FOG transceivers will be showcased at OFC in Anaheim, California March 8 - 10, 2005. Please visit Booth #2624 for a preview of this revolutionary hybrid optical package integration.

Phasebridge, Inc. engineers photonic integration technologies, products, and solutions to lower the cost and size of optical systems in a variety of markets. Leaders in rugged and compact packaging of optical devices and subsystems for analog RF (radio frequency) signal generation, Phasebridge's breakthrough hybrid photonic integration solutions deliver manufacturable and repeatable miniaturization to photonics challenges for optical networks, device remoting, weapons and aerospace guidance, automotive systems, industrial and medical sensors, and emerging markets like terahertz technology. Please visit www.phasebridge.com for more information.

PHASEBRIDGE, INC.
859 South Raymond Avenue
Pasadena, CA 91105
Phone: 626-304-7610
Fax: 626-304-7619
Website: www.phasebridge.com

Company Contact: Steffen Koehler, V. P. Marketing
email: skoehler@phasebridge.com

Patti Smith
Smith Miller Moore
Advertising o Marketing o Public Relations - for Advanced Technologies
818-708-1704 / Fax: 818-344-7179
Cell: 818-424-7282
patti@smm-ads.com

More from Fasteners & Hardware