Focusing Fibers detect ultra-small targets.
Press Release Summary: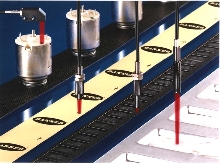 Focused-beam fibers pipe light into otherwise inaccessible locations, and focus beam to very small spot, allowing fiber-optic sensors to detect small parts. Fibers come in fixed and adjustable sensing distance models. L4C6 and L4C20 convergent lens attachments allow sensing at fixed focal distances of 0.24 and 0.79 in., respectively, with spot dia. as small as 0.01 in. Other attachments include PLI-A10 assembly and LZ3C8 right angle sensor.
---
Original Press Release:

New, Focused-Beam Sensing Fibers Detect Ultra-Small Targets


Minneapolis, MN-February 28, 2002-Banner Engineering Corp. has announced new focused beam sensing fibers that detect minute targets. They allow users to "pipe" light into otherwise inaccessible locations. Unlike most diffuse mode sensing fibers which have a relatively wide beam divergence, these new fibers utilize special convergent lensing that focuses the beam to a very small spot. While conventional fibers are unable to concentrate enough light on the sensing target, resulting in unstable detection, the new focused beam fibers overcome this problem, allowing Banner fiber optic sensors to achieve reliable and stable detection of small parts and product attributes.

Banner focused beam sensing fibers come in both fixed and adjustable sensing distance models. The L4C6 and L4C20 convergent lens attachments allow sensing at fixed focal distances of 6 mm (0.24") and 20 mm (0.79"), respectively, when used with a Banner bifurcated coaxial fiber. Spot diameters as small as 0.25 mm (0.01") can be achieved with the L4C6 lens, allowing sensing of very tiny targets. The PLI-A10 fiber assembly converges emitted light at a user-adjustable distance from the miniature sensing tip by simply rotating and locking the fiber in the lens. The spot diameter is adjustable from 0.5 mm to 3.2 mm (0.2" to 0.13"). The focal distance of the PLI-A10 is 8 mm to 32 mm (0.31" to 1.26"). For right angle sensing, the LZ3C8 attachment can be fitted to a Banner bifurcated coaxial fiber, giving the same adjustment range and spot sizes as the PLI-A10 by changing the insertion depth of the threaded fiber tip in the lens housing.

The new fibers can be used with a wide variety of Banner fiber optic sensor amplifiers, including the MINI-BEAM(R), WORLD-BEAM(TM), D11, D12, and new D10 Expert(TM) model with an advanced 16-bit microprocessor, 12-bit A/D resolution and ability to solve the most difficult low-contrast sensing applications.

Banner has the broadest, most readily-available line of fibers in the world. Users can choose from a huge selection of standard fibers in virtually all shapes and sizes, or custom fibers can easily be designed for unique applications. Two general styles include individual fibers that are used in pairs in the opposed sensing mode; and bifurcated fibers that emit and receive light signals in the same assembly. Banner glass fibers are also available to solve numerous challenging sensing requirements including the most hostile environments such as high temperatures up to 480°C (900°F), corrosive materials, extreme moisture, high levels of electrical noise, shock and vibration.

Banner Engineering is the nation's leading manufacturer of fiber optic assemblies, photoelectric and ultrasonic sensors, electronic machine guarding systems, and precision measurement systems.


More from Explosives, Armaments, and Weaponry