Foaming Polyurethane protects hydraulic roof supports from debris.
Press Release Summary: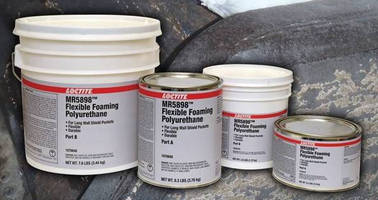 Pour-in-place Loctite® MR5898™ bonds to pockets and hydraulic cylinders. By foaming up to fill entire cavities and adhering to edges, foam blocks out debris, particulate, teeth, or tools that might damage equipment while remaining flexible enough to allow free movement of hydraulic leg. This self-extinguishing, low-odor foam, intended for use underground and in confined spaces, has 2-part formula that begins to foam minutes after mixing, and becomes tack-free within minutes of pouring.
---
Original Press Release:

Henkel's Loctite® Foaming Polyurethane Protects Hydraulic Roof Supports from Longwall Mining Debris



Self-Extinguishing, Low-Odor Foam Fills Pocket and Hydraulic Cylinder to Reduce Equipment Damage



Rocky Hill, Conn. -- For hydraulic roof support equipment used in longwall mining, Henkel Corporation has introduced Loctite® MR5898™ Foaming Polyurethane, a pour-in-place foam material designed to bond to pockets and hydraulic cylinders. By foaming up to fill entire cavities and adhering to edges, this innovative foam effectively blocks out  debris, particulates, teeth or tools that might damage the equipment, yet is flexible enough to allow free movement of the hydraulic leg.



Loctite® MR5898™ Foaming Polyurethane replaces precut foam inserts that allow debris to migrate into cavities through gaps between inserts and equipment edges. This self-extinguishing, low-odor foam is  intended for use underground and in confined spaces. The two-part formula begins to foam a few minutes after mixing and becomes tack-free within minutes of pouring. The flexible cured foam can be easily cut or trimmed using a serrated blade.



Use of Loctite® MR5898™ Foaming Polyurethane on hydraulic roof supports ensures proper functioning of equipment, reduces unplanned downtime and prevents costly component replacement. Workers spend less time cleaning pockets and cavities, and do not need to inventory or store spare foam inserts. The foaming polyurethane product is available in convenient kit sizes.



For additional information, visit www.henkelna.com/mining or call 1-800-LOCTITE (800-562-8483).



HENKEL IN NORTH AMERICA

Henkel markets a wide range of well-known consumer and industrial brands in North America, including Dial® soaps, Purex® laundry detergents, Right Guard® antiperspirants, got2b® hair gels, and Loctite® adhesives. Visit www.henkelna.com for more information.



ABOUT HENKEL

Henkel operates worldwide with leading brands and technologies in three business areas: Laundry & Home Care, Beauty Care and Adhesive Technologies. Founded in 1876, Henkel holds globally leading market positions both in the consumer and industrial businesses with well-known brands such as Persil®, Schwarzkopf® and Loctite®. Henkel employs about 47,000 people, and reported sales of $21.8 billion and adjusted operating profit of $3.3 billion in fiscal 2013. Henkel's preferred shares are listed in the German stock index DAX.



Contact

Paula Zakrzewski Shepard

Image Ink Public Relations

Tel: 860-228-8056

imageinkpr@aol.com



Henkel Corporation

Engineering Adhesives

One Henkel Way

Rocky Hill, CT 06067

Tel: 1-800-LOCTITE (562-8483)

Tel: 860-571-5100

www.henkelna.com/industrial

More from Mechanical Power Transmission