Foam Silicone Rubber Heaters conform to gas delivery/pump lines.
Press Release Summary: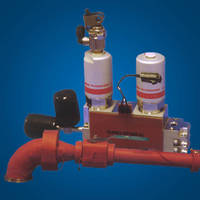 Used in PECVD, LPCVD, plasma etch, and other vacuum applications, Molded Foam Silicone Rubber Heaters help reduce sublimation of ammonium chloride, nitrides, and other potential hazardous materials by heating forelines, vacuum lines, and vacuum pumps. Silicone molded foam and formed heater construction is clean room compatible. Product is formed or molded to dimensions of stainless steel components, eliminating cold spots where chance of condensation or sublimation increases.
---
Original Press Release:

Gas Delivery and Pump Line Heaters



Cary, IL - Durex Industries, a leading North American designer and manufacturer of heaters, temperature sensors, controls and systems, recently announced the release of its new Gas and Pump Line Heating Solutions include Molded Foam Silicone Rubber Heaters.

Durex Industries' Gas and Pump Line heaters are turnkey thermal solutions used in PECVD, LPCVD, plasma etch and other vacuum applications. Low vapor pressure gas delivery lines need to be held at a temperature higher than the gas vaporization point in order to prevent condensation that will affect process yields. Vacuum exhaust lines remove the vapor phase bi-products from the semiconductor process. Sublimation occurs when the vapor phase materials cool in a vacuum line. By heating the forelines, vacuum lines, and vacuum pumps, sublimation of ammonium chloride (AlCl2), nitrides (NH4) (NH4Cl) and other potential hazardous materials can be substantially reduced.

Silicone molded foam and formed heater construction are clean room compatible material that reduces potential for particle generation. Durex silicone heaters are formed or molded to the dimensions of the stainless steel components eliminating cold spots where a chance of condensation or sublimation increases. Foam silicone rubber gas line heaters are ideal for heating valves, filters, mass flow controls and other components that have complex geometries. Molds are designed to the complex 3-D dimensions of the vacuum component and with distributed wattage heating.

About Durex Industries
Durex Industries is a vertically integrated, lean enterprise advancing the state of the art in industrial electrical heating, temperature sensing and control. Headquartered in a 125,000 sq. ft. manufacturing facility in Cary, Illinois, Durex Industries serves the Analytical Instrumentation, Medical Device, Semiconductor, Photovoltaic, Foodservice, Plastics, Packaging, Process, and general industrial markets.

For literature, applications, pricing or more details, please contact:
DUREX INDUSTRIES, 190 Detroit Street, Cary, IL 60013-2979
Phone: (847)639-5600. Fax: (847) 639-2199
Web: www.durexindustries.com. E-mail: sales@durexindustries.com. Attention: Bill Johnson

More from HVAC