FMWGN1001 Gunn Diode Oscillator features self-locking screw.
Press Release Summary: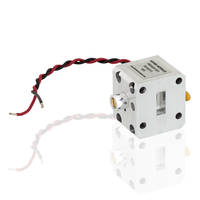 Operating in -40°C to +85°C temperature range with +5Vdc at 200 mA bias supply, FMWGN1001 Gunn Diode Oscillator generates 24.125 GHz center frequency and can be tuned up to ± 1.0 GHz. Featuring high external Q and temperature compensation characteristics, unit offers -95 dBc/Hz phase noise at 100 KHz offset. Delivering +10 dBm of minimum output power and -0.04 dB/°C maximum power stability, product supports WR-42 UG-595/U waveguide flange interface.
---
Original Press Release:
Fairview Microwave Debuts Gunn Diode Oscillator Operating at 24.125 GHz
New Waveguide Gunn Oscillator from Fairview Delivers +10 dBm Output Power and Low Phase Noise
Fairview Microwave Inc., a supplier of on-demand microwave and RF components, has released a waveguide Gunn oscillator that provides a cost-effective source for microwave power with excellent frequency and power stability while generating low-phase-noise. Typical applications include transmit and receive oscillators for radio communications, local oscillator source that can be multiplied for higher mm-wave frequency test and measurement, military and commercial radar sources, police radar, Doppler sensors and security screening.
Fairview Microwave's model FMWGN1001 is a K-Band waveguide Gunn oscillator module that generates a center frequency of 24.125 GHz and can be tuned up to +/- 1.0 GHz via a self-locking tuning screw. Because of the extremely high external Q and temperature compensation mechanism, this design exhibits higher frequency and power stability, lower phase-noise and higher anti-load-pulling characteristics. Performance specs include phase noise of -95 dBc/Hz typical at 100 KHz offset, and frequency stability of -0.4 MHz/°C maximum. The output power of this oscillator is +10 dBm minimum with power stability of -0.04 dB/°C maximum. Bias supply is +5Vdc at 200 mA typical with an operating temperature range of -40°C to +85°C.
The design of this oscillator from Fairview utilizes high performance components in a rugged and compact aluminum package with a precision machined internal cavity design. The output frequency port supports a WR-42 UG-595/U waveguide flange interface.
"Our FMWGN1001 Gunn oscillator module offers designers a cost-effective and high performing K-Band waveguide frequency source solution for use with sensitive communications, radar and test and measurement applications," explains Randy Leenerts, Senior RF Engineer at Fairview Microwave.
Fairview's waveguide Gunn diode oscillator is in-stock and ready for immediate shipment with no minimum order quantity. For detailed information on these products, please visit https://www.fairviewmicrowave.com/rf-products/fmwgn1001-24.125-ghz-gunn-oscillator.html. For inquiries, Fairview can be contacted at +1-949-261-1920.
About Fairview Microwave:
A leading supplier of on-demand RF and microwave products since 1992, Fairview Microwave offers immediate delivery of RF components including attenuators, adapters, coaxial cable assemblies, connectors, terminations and much more. All products are shipped same-day from the company's ISO 9001:2008 certified production facilities in Allen, Texas.
Press Contact:
Peter McNeil
Fairview Microwave
17792 Fitch Irvine, CA 92614
(978) 682-6936 x1174
Related