FMS Switches are designed for direct injection testing.
Press Release Summary: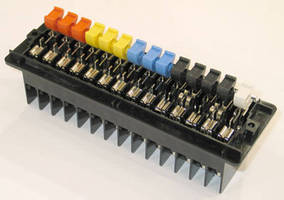 Type FMS test switches allow access to current and voltage inputs of electromechanical, solid-state, and microprocessor-based protective relays. Knife-blade type switches connect via dual-circuit plugs, test clips, or ABB/Westinghouse test plugs. Connection to rear is by means of screw terminals, and switch handle's dovetail construction accepts marker cards for circuit identification. Rated to 600 V, 30 A, units can be supplied as 10-, 14-, or 30-pole assemblies.
---
Original Press Release:

Switch to States for Testing!



The latest type FMS test switches from States are an ideal choice for applications where safe and secure access to current and voltage sensing circuits is essential. The switches allow convenient access to the current and voltage inputs of electromechanical, solid-state and microprocessor-based protective relays for direct injection testing.

Long accepted as the best method for protective device testing, direct injection was, in the past, accommodated by relay manufacturers through the provision of draw-out cases and test jacks. Newer relays, however, no longer include these provisions, and they must be disconnected from the sensing circuits to allow the connection of test equipment.

Disconnecting and reconnecting critical circuits is, however, a process that is always fraught with risk - circuits may accidentally be left unconnected, or the connections may be remade incorrectly.

States FMS semi-flush mounted test switches offer a complete and convenient solution to these problems. They provide safe, secure and reliable access to microprocessor and conventional relays, while combining rugged compact construction with the quality for which States products are noted.

FMS switches were specifically developed for use in testing applications, and are arranged to allow safe convenient front access test instrument connection. Connections may be made using States dual circuit plugs, standard test clips or ABB/Westinghouse test plugs. Connection to the rear of the switches is normally by means of screw terminals, but stud connections are available as an option.

FMS switches can be supplied as standard 10-, 14- or 30-pole assemblies to suit most applications. Virtually any custom switch configuration can be provided. Individual switches are available in voltage and current versions, with the current versions incorporating a make-before-break short-circuit feature to ensure safe operation.

The switches are knife-blade type. Individual switches are separated by insulated barriers that form part of the molded base. The switch handles' dovetail construction accepts marker cards for circuit identification. The handles are also provided with holes for inserting a yoke bar to gang adjacent switch poles.

In applications where enhanced security is required, States FMS test switches can be fitted with deep, wide clear covers that incorporate a knockout tab for use with the optional FMS lockout kit. The cover retaining screws also have a hole for use with a meter-type seals, to deter unauthorized access.

States type FMS test switches are UL recognized, UL File E225664, with a rating of 600 V, 30A. They are also CSA certified, Certificate 1281976.

For further information:

Elsa Cantu, Megger Limited

4271 Bronze Way, Dallas, Texas 75237-1019 USA

Tel: 1-800-723-2861

Fax: 1-214-331-7399

Email: elsa.cantu@megger.com

Web: www.megger.com

More from Electrical Equipment & Systems