Flyback Transformer features corona-free design.
Press Release Summary: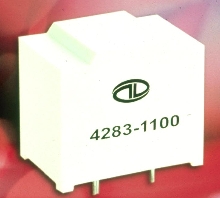 Model 4283-1100 High-Voltage Transformer drives high impedance loads requiring up to 7,500 Vrms. Providing primary-to-secondary isolation up to 18 kVdc, unit is suitable for applications requiring high-voltage, low to medium power including industrial lasers, ion generators, cathode ray tube transformers and traveling wave tube power supplies. Model 4283-1100 is particularly reliable in electrically unstable or harsh environments.
---
Original Press Release:
New Model 4283-1100 High-Voltage Flyback Transformer Features Virtually Corona-Free Design

The new Model 4283-1100 Hi-Voltage Transformer from Datatronics Romoland, Inc. provides a cost-effective means of driving high impedance loads requiring up to 7,500 Vrms. This application-specific device can be custom configured to meet a wide variety of military, medical and aerospace applications.

The advanced design and construction of the 4283-1 100 ensures a high voltage signal that is virtually corona-free, made possible through state-of-the-art encapsulation techniques and other leading-edge manufacturing processes. The result is a superior level of performance and stability when compared to conventional high voltage transformers.

Providing primary-to-secondary isolation of up to 18 KVdc, the Model 4283-1100 is ideal for applications requiring a high-voltage, low to medium power. The 4283-1100 is particularly reliable in electrically unstable or harsh environments. Typical applications include defibrillators, medical and industrial
lasers, ion generators (powder coating and painting equipment), cathode ray tube transformers, traveling wave tube power supplies and more.

The 4283-1100 meets or exceeds the performance, safety and quality standards of a variety of U.S., European and Asian specifications. It is economically priced beginning at approximately $10.00 each, in a quantity above 1,000 units. Prices vary depending on custom circuit options, decreased quantity


More from Cleaning Products & Equipment