Flux Dispensing Pen is suited for rework technicians.
Press Release Summary: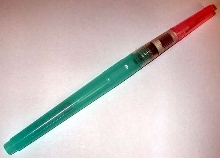 Constructed of polypropylene, refillable Flux Pen features fine tip that allows user to apply liquid flux to tiny chip components and individual solder joints on densely populated assemblies. Flux is dispensed by squeezing barrel, and transparent cartridge shows amount of remaining material. Design minimizes waste and prevents over-fluxing, which reduces cleaning time and prevents contamination. Ergonomic pen fits into top pocket of lab coat.
---
Original Press Release:

New Cobar Flux Pen Ideal for Rework Technicians; Simple, Precise, Inexpensive


Londonderry, New Hampshire, USA - Rework technicians now have a precise, inexpensive, handy tool for applying liquid flux to tiny chip components and individual solder joints with Cobar Solder Products' new Flux Pen. The Flux Pen can be used with different types of fluxes, depending on the assembly that is being worked on. Its fine tip allows the user to apply flux to very small areas in densely populated assemblies. This inexpensive pen cuts down on waste and prevents over-fluxing, this reducing possible cleaning time and preventing contamination.

The Flux Pen's transparent cartridge allows the user to see the amount of remaining material in the pen; its small, compact size and large capacity makes this pen ideal for most rework and post assembly applications. Flux is dispensed by lightly squeezing the barrel; the user controls the amount of flux flow. A snug-fitting cap prevents flux evaporation in the barrel, thus extending the life and purity of the Flux. Constructed of rugged polypropylene, the refillable Flux Pen features an ergonomic design for ease of use, and is compact enough to fit into the top pocket of a lab coat.

Cobar is a leading global supplier of solder pastes, fluxes, and other electronics soldering materials for electronics assembly. Cobar BV, founded in 1983 in Holland, is the technological center and headquarters of the Cobar Group, a multi-million dollar corporation with operations and distributors in all major areas of the world. Cobar is known in Europe as the leader in lead-free and VOC-free soldering materials. Cobar is accredited to ISO 9001 and to ISO 14001.

Cobar Solder Products (U.S.) is located at 53 Wentworth Avenue, Londonderry, New Hampshire 03053 USA, Tel. +1-603-432-7500, Fax +1- 603-432-7519. Bob Silveri can also be contacted at [email protected].