Welding Rods, Wire and Electrodes
Flux-Cored Wire produces flat bead profile.
Press Release Summary: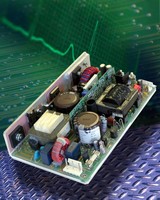 Designed for use on A572, A36, and 572 grade steel, Tri-Mark Triple 7 gas-shielded flux-cored wire produces impact value of 34 ft-lb, and 64 ft-lb at 0°F with 100% CO2 or mixed gases. Wire is offered in AWS classifications E71T-1C H8 for use with CO2 and E71T-1M H8 for use with Argon/CO2, and is available in diameters of .035, .045, .052, and 1/16 in. Packaging options include 10, 33, and 50 lb spools, 60 lb coils, and 400 and 600 lb X-Paks.
---
Original Press Release:
Hobart Brothers Now Offers Its Tri-Mark Triple 7 Flux-Cored Wire for Use On a Variety of Heavy Fabrication Applications.
Versatile Tri-Mark Triple 7 Flux-Cored Wire Produces High Strength Welds o Produces a flat bead profile in all welding positions o Offers excellent impact values, high deposition rates Troy, OHIO. November 7, 2006-To meet the market's demand for a high strength, high deposition rate welding filler metal, Hobart Brothers offers its Tri-Mark, Triple 7 gas-shielded flux-cored wire for single and multiple pass welding. For use on A572, A36 and 572 grades steel, Triple 7 wire produces excellent impact values of 34 ft-lbs (46 J) and 64 ft-lbs (87 J) at 0 degrees F (-18 degrees C) with 100 percent CO2 or mixed gases (75 percent Argon/25 percent CO2). Triple 7 offers fast freezing slag that allows operators to use higher welding currents and boost deposition rates in all welding positions. High Standards, High Performance An excellent choice for a variety of heavy fabrication applications, Triple 7 wire is suitable for use in industries that work with heavy plate or heavy gauge steels such as shipbuilding, railcar and pressure vessel fabrication, along with certain types of pipe welding applications. Triple 7 wires meets the stringent certifications of the American Bureau of Shipbuilding (ABS) and the Canadian Welding Bureau (CWB). Hobart Brothers offers Triple 7 wire in AWS classifications E71T-1C H8 (for use with CO2) and E71T-1M H8 (for use with Argon/CO2). Triple 7 wire also features easily removable slag, even in deep grooved joints, which helps increase operator productivity by minimizing post-weld clean up. "Triple 7 is a very versatile wire that can be used in all positions, and produces a consistent flat weld bead profile with either straight CO2 or mixed gases," says Keith Packard, tubular wire product manager, Hobart Brothers. "We've also engineered Triple 7 with slag that's easy to remove, so operators can spend more time welding and less time working with their chipping hammer and brush." To meet end-users' heavy fabricating needs, Triple 7 wire is available in a wide range of wire diameters and packaging styles. Wire diameters include .035-, .045-, .052-, and 1/16-inch. Hobart Brothers also offers a variety of packaging options that include: 10-, 33- and 50-lb spools, 60-lb coils and 400- and 600-lb. X-Paks. Hobart Brothers is dedicated to the highest level of Performance Welding(TM). For product spec sheets or to learn more about Hobart Brothers and Tri-Mark brand products, visit Hobartbrothers.com, call 1-800-424-1543, fax 1-800-541-6607, or write Hobart Brothers Company, 101 Trade Square East, Troy, OH, 45373. Hobart Brothers Company of Troy, Ohio, is a leading manufacturer of welding filler metals marketed under the brand names Hobart, Tri-Mark, McKay and Corex. Hobart Brothers Company is a wholly owned subsidiary of Illinois Tool Works, Inc., Glenview, Ill., a diversified multinational manufacturer of highly engineered components, assemblies and systems.
Related