Flush Valve is suited for glass-lined reactors.
Press Release Summary: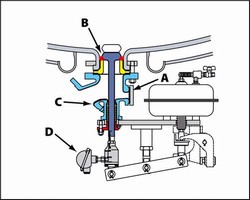 Glass-lined C.I.P. flush valve features flush port for sanitizing, sampling, and back flushing of tank without dismantling valve. Valve offers operating temperatures of -20 to +450°F and pressures from full vacuum to 150 psig. Offered in manual, pneumatic in-line, and pneumatic low-profile configurations in sizes of 2 x 1.5, 3 x 2, 4 x 3, and 6 x 4 in., it includes grooved, self-draining nozzle and has no Tantalum or other metal exposed to process fluid.
---
Original Press Release:

Multi-Function, Glass-Lined C.I.P. Flush Valve



June 27, 2007 -- MOUNTAINSIDE, NJ -- A new "Clean Valve" glass-lined, C.I.P. flush valve for glass-lined reactors features a flush port that allows sanitizing, sampling, back flushing of the tank and other functions without dismantling of the valve.

The self-draining port has a 5º downward pitch and is tangential to the outlet nozzle of the valve to facilitate cleaning, accomplished by removing the flush port cover, attaching a pipe or hose, flushing the valve body with cleaning solvent and replacing the cover.

The port can also be used to sample liquids from the vessel, add liquids or gases, back flush the head of the vessel, pressure-check downstream lines before emptying the vessel, flush downstream lines and pre-heat piping.

According to the manufacturer, De Dietrich Process Systems, the valve's C.I.P. capability can eliminate cross contamination between batches, reduce labor and vessel downtime, and preclude damage to the vessel outlet nozzle associated with removal and replacement of traditional glass-lined valves for cleaning.

The all glass-lined design has no Tantalum or other metal exposed to the process fluid, and has a grooved, self-draining nozzle to prevent liquid hold-up.

A patented lip seal valve seat is reinforced by a Teflon-encapsulated Viton O-ring, and seals against its bottom outlet nozzle to prevent any build-up of materials in the annular area between the valve seat and nozzle wall that could lead to cross contamination between batches.

The valve's glass-lined steel head and stem are machined to provide a smooth-sealing surface for the valve packing sealing rings. A Teflon-encapsulated Viton O-ring seal located in front of Chevron packing within the sealing neck provides a primary seal against the valve body, prevents the accumulation of process material above the Chevron packing, and eliminates the need for difficult-to-clean bellows.

Integral to the valve stem is a UniTIP® temperature sensor that can be replaced without removing the valve from service. It can accommodate RT or TC sensors and is located at the lowest point in the vessel for the most accurate and reliable temperature measurement.

The valve is rated for operating temperatures of -20° F to +450° F (-29°C to 232°C) and pressures from full vacuum to 150 PSIG (1034 kPa), and is offered in manual, pneumatic in-line and pneumatic low-profile configurations in four sizes: 2 x 1.5 in. (50.8 x 38.1 mm), 3 x 2 in. (76.2 x 50.8 mm), 4 x 3 in. (101.6 x 76.2 mm) and 6 x 4 in. (152.4 x 101.6 mm).

For information contact De Dietrich Process Systems, Inc., 244 Sheffield St., Mountainside, NJ 07092 USA, 1-908-317-2585, sales@ddpsinc.com, www.ddpsinc.com

More from Electronic Components & Devices