Fluorescent Light Tester eliminates trial, error, and rework.
Press Release Summary: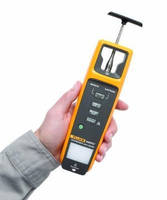 In less than 30 seconds, Fluke® 1000FLT can perform all essential tests, including lamp tester, ballast tester, non-contact voltage detector, pin continuity tester, and ballast discriminator. Point-and-shoot ballast discriminator speeds replacement of old magnetic ballasts with energy-efficient electronic models by identifying what type of ballast is in fixture before user climbs ladder. In addition to belt-style holster, tester comes with metal test rod that extends up to 31 in.
---
Original Press Release:

New Fluke 1000FLT Fluorescent Light Tester Performs All Essential Lamp Tests in Less than 30 Seconds



Tester cuts labor costs for managers and saves time for technicians by eliminating trial and error during lighting maintenance



EVERETT, Wash., -- Maintaining fluorescent lamps tends to be a trial-and-error process. Bulbs not lit? Climb the ladder and replace them. Still not lit? Go back up the ladder and replace the ballast. Still not lit? Climb the ladder one more time. It's tedious, time-consuming, and inefficient, plus any time workers climb ladders there are potential safety issues.



The Fluke(®) 1000FLT Fluorescent Light Tester eliminates the guesswork of maintaining fluorescent lamps by performing all the essential tests on lamps in less than 30 seconds: lamp tester, ballast tester, non-contact voltage detector, pin continuity tester, and ballast discriminator. The 1000FLT eliminates trial, error, and rework, and reduces the time maintenance teams spend fixing lights.



The point-and-shoot ballast discriminator in the 1000FLT speeds the replacement of old magnetic ballasts with new energy-efficient electronic models by quickly identifying exactly what type of ballast is in the fixture before they climb the ladder.  There is no need to remove the bulbs or to make contact with live circuitry. Simply point the 1000FLT fluorescent light tester at the glowing bulb and determine the ballast type.



The tester comes with a rugged, metal test rod that extends up to 31 inches (79 cm) eliminating the need to climb a ladder for many tests, and a belt-style holster so the tester is always within easy reach.  The 1000FLT is protected by a three-year warranty.



The Fluke 1000FLT Fluorescent Light Tester is available now. For more information, visit: www.fluke.com/1000flt.



Fluke Corporation

For information on Fluke tools and applications, or to find the location of a distributor, contact Fluke Corporation, P.O. Box 9090, Everett, WA USA 98206, call (800) 44-FLUKE (800-443-5853), fax (425) 446-5116, e-mail fluke-info@fluke.com or visit the Fluke Web site at www.fluke.com.



About Fluke

Founded in 1948, Fluke Corporation is the world leader in compact, professional electronic test tools. Fluke customers are technicians, engineers, electricians, and metrologists who install, troubleshoot and manage industrial, electrical and electronic equipment and calibration processes.



Follow Fluke on Facebook, Twitter, Google+, YouTube or LinkedIn.



Fluke is a registered trademark of Fluke Corporation. The names of actual companies and products mentioned herein may be the trademarks of their respective owners. For more information, visit the Fluke website.



For more information:

Leah Friberg

Public Relations Manager

(425) 446-5905

leah.friberg@fluke.com