Fluorescent Lamp Ballasts are designed for 28 W T5 lamps.
Press Release Summary: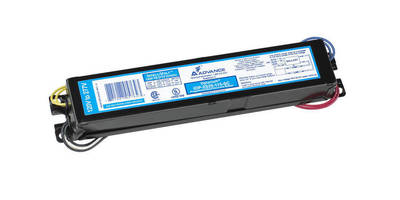 Fixed output Optanium® 28 W T5 electronic ballasts support recessed lighting applications in commercial, institutional, and retail settings. They are available in .95 ballast factor energy saving version and 1.15 ballast factor version, which suits applications that require high light levels. Operating from any line voltage switching device, ballasts feature IntelliVolt® multiple-voltage technology, auto restart, and lamp End-Of-Life (EOL) protection circuitry.
---
Original Press Release:

Philips Lighting Electronics Introduces Optanium® Fixed Output Ballasts for 28 Watt T5 Fluorescent Lamp Applications



ROSEMONT, IL - Philips Lighting Electronics proudly announces the expansion of its popular family of Optanium® 28 Watt T5 electronic ballasts to include a new fixed output version designed to support recessed lighting applications within a broad range of commercial, institutional, and retail settings.

Philips Advance's new high-efficiency, fixed output electronic ballasts for 28 Watt T5 fluorescent lamp applications have been specially designed to complement the company's existing range of Optanium 28 Watt T5 step-dim ballasts. Used in tandem with the step-dim versions, the new fixed output ballasts will help support a building's full range of lighting needs and ensure even lighting output in neighboring ambient spaces that don't require more complex step-dim capabilities. Designed to offer maximum versatility and design flexibility, the new fixed output ballasts are available in both a popular .95 ballast factor "energy-saving" version as well as a 1.15 ballast factor version, which is ideal for applications that require higher light levels. Operating from any line voltage switching device, the ballasts' programmed-start circuitry provides extended lamp life in frequent switching applications, such as those associated with the use of occupancy sensors or motion detectors. The ballasts additionally feature IntelliVolt® multiple-voltage technology and auto restart, as well as safety features such as lamp End-Of-Life (EOL) protection circuitry, which safely removes power from the lamp upon failure and helps to minimize maintenance concerns.

Suitable for both new construction and retrofit opportunities, Philips Advance's new Optanium fixed output electronic ballasts for 28 Watt T5 fluorescent lamps represent a maximum-efficiency, high-performing lighting solution that helps to support the broad range of lighting needs within today's professional lighting applications while fully promoting sustainable lighting design.

About Philips Lighting Electronics North America

A leader in the ballast industry for over 60 years, Philips Lighting Electronics N.A. offers a full line of Philips Advance branded ballasts and drivers for fluorescent, HID, and LED light sources to the market's broad range of lighting fixture manufacturers and electrical distributors. For more information on Philips Lighting Electronics' complete product line and range of Smart Solutionsä, visit www.philips.com/advance or call (800) 322-2086. Philips Lighting Electronics N.A. is a division of Philips Electronics North America. News from Philips Lighting Electronics and Philips is located at http://www.philips.com/media.

About Royal Philips Electronics

Royal Philips Electronics of the Netherlands (NYSE: PHG, AEX: PHI) is a diversified Health and Well-being company, focused on improving people's lives through timely innovations. As a world leader in healthcare, lifestyle and lighting, Philips integrates technologies and design into people-centric solutions, based on fundamental customer insights and the brand promise of "sense and simplicity". Headquartered in the Netherlands, Philips employs approximately 116,000 employees in more than 60 countries worldwide. With sales of $38 billion in 2008, the company is a market leader in cardiac care, acute care and home healthcare, energy efficient lighting solutions and new lighting applications, as well as lifestyle products for personal well-being and pleasure with strong leadership positions in flat TV, male shaving and grooming, portable entertainment and oral healthcare. News from Philips is located at www.philips.com/newscenter.

For further information, please contact:
Philips Lighting Electronics North America
Susan Bloom
Tel: (732) 563-3517
E-mail: susan.bloom@philips.com

More from Controls & Controllers