Fluorescence Bandpass Filters match common fluorophores.
Press Release Summary: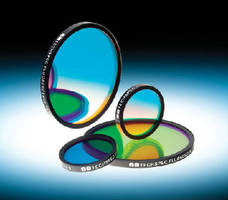 With 18 additional models at center wavelengths ranging from 386–648 nm, TECHSPEC® Fluorescence Bandpass Filters suit fluorescence imaging applications. Units feature greater than 93% transmission and greater than OD 6 blocking outside desired passband, less than 3% from edge of bandwidth, to ensure detection of weakest signals. Offered in 12.5, 25, and 50 mm diameters, filters are manufactured with hard sputtered coating on single fused silica substrate and mounted in black anodized ring.
---
Original Press Release:

TECHSPEC® Fluorescence Bandpass Filters Perfectly Matched to Common Fluorophores



18 new models added in six new wavelengths



Karlsruhe, Germany – Edmund Optics® (EO), the premier provider of optical components, introduces 18 new TECHSPEC® Fluorescence Bandpass Filter in six new wavelengths. These precision filters are perfectly matched to common fluorophores used in fluorescence imaging applications. They are also optimal components in spectroscopy and clinical chemistry applications, as well as in Biomedical instrumentation.



Deep blocking for maximum laser rejection                                                                                           



With high average transmission and excellent blocking, TECHSPEC Bandpass Filters provide maximum brightness and brilliant contrast. Available in common wavelengths for popular fluorophores, the filters feature greater than 93% transmission and greater than OD 6 blocking outside the desired passband, less than 3% from the edge of the bandwidth, to ensure detection of even the weakest signals. Each TECHSPEC Fluorescence Bandpass Filter is manufactured with a hard sputtered coating on a single fused silica substrate for durability and mounted in a black anodized ring for ease of handling. 



Six new CWLs available in three sizes



TECHSPEC Fluorescence Bandpass Filters are available in 198 different standard specifications. Eighteen new models have been added at center wavelengths (CWL) ranging from 386 - 648 nm, offered with diameters of 12.5 mm, 25 mm and 50 mm. RoHS compliant TECHSPEC Fluorescence Bandpass Filters are in-stock and available for immediate delivery for fast turnaround and excellent value.



Please stop by the Edmund Optics Booth #1612 at Photonics West, February 16-18, 2016 in San Francisco, to learn more about the Fluorescence Bandpass Filters.



About EO:

Edmund Optics® (EO) is a leading global manufacturer and distributor of precision optics, optical assemblies and image processing components with headquarters in the USA and manufacturing facilities in the U.S. and Asia and sales representatives around the globe. With a portfolio of more than 27.600 products, EO has the world's largest inventory of optical components for immediate delivery and offers products, standard or customized, in small quantities but also in volume for various industries. Request a quote or place your order via phone +49(0)721 627 3730, by catalog or through the website www.edmundoptics.eu, or contact us via email sales@edmundoptics.eu.



European Contact:

Agnes Huebscher

Director European Marketing

Edmund Optics

Zur Giesserei 8

76227 Karlsruhe, Germany

Tel.:   +49 (0)721-62737-38

Fax:   +49 (0) 721 6273750

E-Mail:   AHuebscher@edmundoptics.de

More from Electronic Components & Devices