Additive Manufacturing Systems
FluidWRITER(TM) Printers include advanced 3D control software.
Press Release Summary: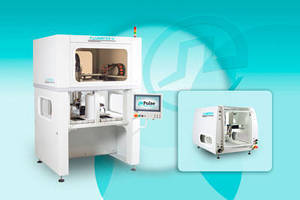 Available in two models FluidWRITER IV R&D and FluidWRITER IV production, FluidANT Printer Technology uses affordable micron particle inks for printing on plastic substrates. Products ensure speed and precision for printing on 3D surfaces. Based on XYZ linear printhead motion system, production model has two rotational axes for mounting fixtures for holding parts. Suitable for producing antennas, sensors, and electrical circuits on 3D surfaces.
---
Original Press Release:
Pulse Electronics' FluidWRITER Printers Print Directly on 3D Surfaces
Pulse Electronics Corporation introduces a new generation of FluidWRITER™ printers that create printed electronics directly on 3D surfaces.

FluidWRITERS incorporate innovative FluidANT™ print technology which enables the use of conductive ink to produce high-performance antennas, sensors, and electrical circuits on 3D surfaces. FluidANT uses affordable micron particle inks to print on standard plastic substrates that have robust mechanical properties, enables new integration possibilities, and extends industrial design flexibility and materials options. This technology delivers significant cost savings potential, introducing very rapid prototyping and versioning using easy to adjust programming. Production benefits from rapid ramp-up, short process time, and simple logistics with a quick control cycle. FluidWRITER technology is environmentally friendly, with no plating involved.

"FluidANT is an innovative technology in terms of cost, lead time, flexibility, and environment," explained Jon Yu, general manager of Pulse Wireless Consumer business unit, Pulse Electronics.

The FluidWRITER IV series consists of two models. The FluidWRITER IV R&D tabletop model provides an affordable entry option to printing and printed product development. It offers the same capability to print on 3D surfaces as a production model, but with a limited maximum printing speed and only one rotational axis for fixtures to hold the parts to be printed on.

The FluidWRITER IV production model is designed for high-speed, high-precision production operations that want the capability of printing on 3D surfaces. The printhead is based on a linear XYZ motion system and printhead operation is synchronized to real-time actual motion which makes the system capable of very precise dosing in high speeds. Printed line-width and thickness remain stable in all situations. A unique digital 3D offset setting together with advanced control software enable accurate printing on a rotary three-dimensional surface. Two rotational axes are available for mounting fixtures to hold the parts to be printed on.

For more information,

visit the website at fluidant.com, http://antennas.pulseelectronics.com/manufacturing/fluidant/, or email sales@fluidANT.com.

About Pulse Electronics

Pulse Electronics is a leading provider of electronic components that help customers build the next great product by providing the needed technical solutions. Pulse Electronics, including the Larsen brand of antennas, has a long operating history of innovation in antennas, magnetics and connectors, as well as the ability to ramp quickly into high-quality, high-volume production. The Company serves the wireless and wireline communications, power management, military/aerospace, and automotive industries. Pulse Electronics is a participating member of the IEEE, SFF, OIF, HDBaseT Alliance, CommNexus, NFC Forum, MoCA, and IWPC. Visit the Pulse Electronics website at www.pulseelectronics.com.

For more information contact:

Esa Kalistaja Director, Print Systems
Pulse Finland Oy
Automaatiotie 1, 90460 Oulunsalo, Finland
Phone: +358 40 703 1022
ekalistaja@pulseelectronics.com

A R Marketing, Inc,
PO Box 501528,
San Diego, CA 92150.
More from Computer Hardware & Peripherals